NEWS
Dance Ambassadors Blog: May 2020
Our experiences at U.Dance Regional Events by Katie Taylor and Rachel Li
Share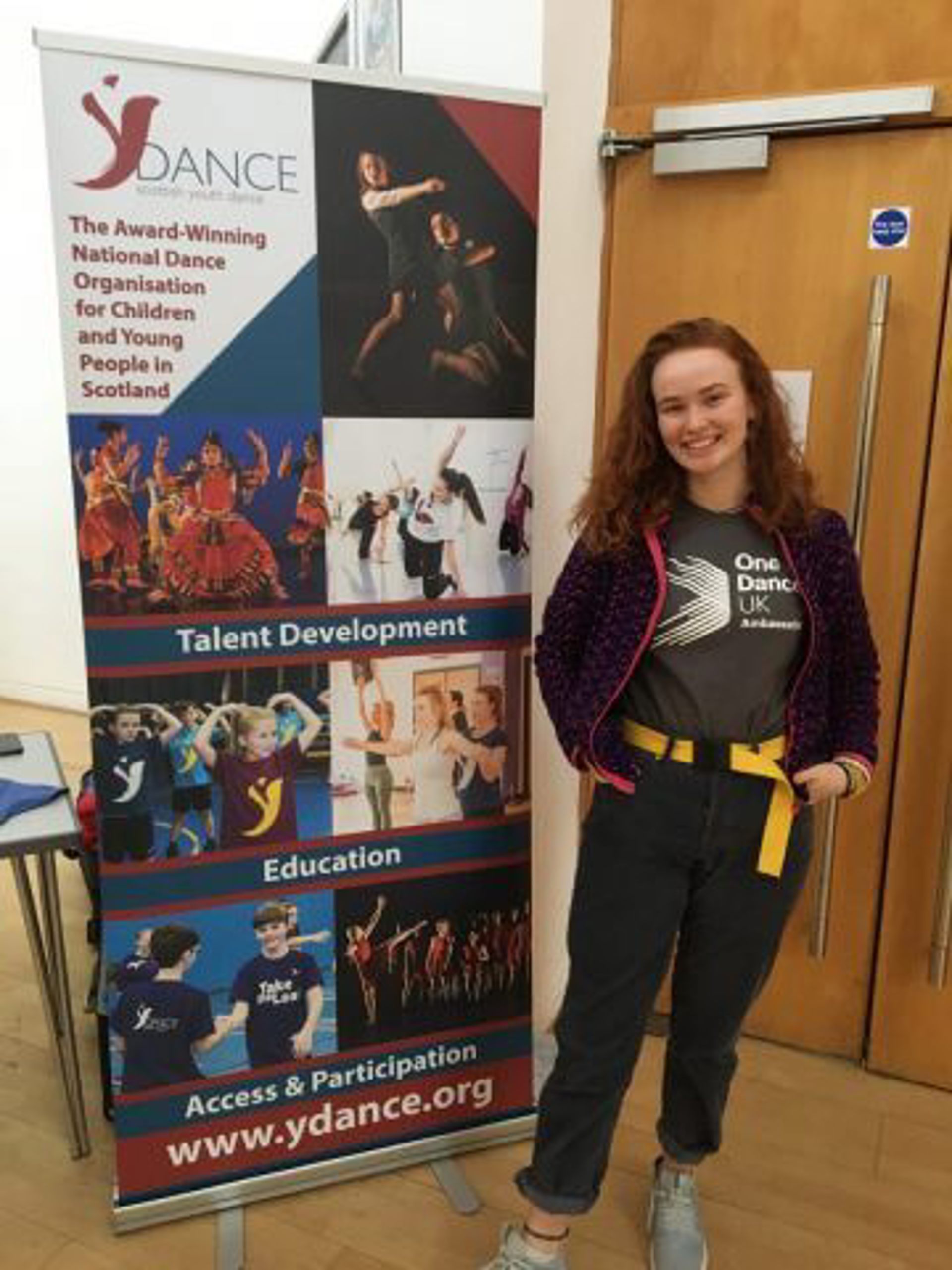 One Dance UK's Dance Ambassadors Blog May 2020:
Our experiences at U.Dance Events
By Katie Taylor and Rachel Li
————————————————————————————————————————————
Katie Taylor at the U.Dance Event in Scotland
Being from the North East of Scotland, it is easy to feel quite isolated and far from a lot of 'the hub' of dance in the UK and the other Ambassadors from One Dance UK. Our induction in Salford last year really opened my eyes and was a great way of getting to know everyone; therefore, I was really looking forward to linking up again. The Scottish national dance platform is called "Destinations" and is run by YDance. In the past, it has been held at Tramway in Glasgow, but more recently, it takes place in The Macrobert Art Centre in Sterling. I have attended this event for the past four years. However, this was the first time I wasn't performing; instead, I was helping out and judging.
On the day, I was teamed up with another Ambassador from Scotland, Nicola. We worked with the YDance team to capture the day through filming and photography behind the scenes and interviewing the different groups participating. We would do general rounds of the venue and help out when needed. Although there were no dance workshops at our event, we helped out with a 'Careers Workshop' held by the Artistic Director of YDance, Anna Kenrick. This allowed young dancers to question certain individuals with different dance backgrounds about what the future could hold for them.
As the day went on, many tech and dress rehearsals rolled by, and it was then the evening. We had the privilege of being able to judge the evening alongside other prestigious people within the dance sector in Scotland. Meeting and chatting with the other judges was lovely, and I felt very honoured to be representing One Dance UK in my home country. Being on 'the other side' of dance events like these gives a whole new perspective into the benefits of youth dance. Something that I didn't notice until I was a lot older was having ownership of what you were doing. Why are you doing it? How does it make you feel? From a judging point of view, you can really tell when a certain dancer or group has complete ownership over their performance and choreography; it was something quite lovely to see.
The 14 dance groups displayed such a diverse representation of what Scotland has to offer. Such vibrancy and talent across all the groups made it even harder to select only a handful of groups intended to represent Scotland at the U.Dance national festival. Regardless of the next stage, the show was a colourful collaboration of youth dance in Scotland!
Rachel Li at the U.Dance Regional Event in London
Thank you to Katie for sharing your experience of attending U.Dance for the 5th time. I'm now going to share my experience attending and helping out at a U.Dance event for the first time!
The London regional U.Dance platform took place on 15 March 2020, hosted by Trinity Laban at their beautiful theatre and studios. It was such an eye-opening day for me to be a part of this wonderful platform, especially since U.Dance is not just about showcasing talents on stage but also provides educational workshops and career talks – giving young people the whole experience. It was my first time attending this youth dance platform, and I was astonished by how well-rounded these platforms are for young people here.
The day started early, and we welcomed the 125 participants (eight groups). The first half of the day consisted of two contrasting and fun workshops: musical theatre and folk dance, a studio rehearsal and a technical slot on stage for each group. All the groups had so much fun doing the workshops! It was fascinating to see the different groups work together during the workshops since there was a diverse range of styles from the groups. The differences definitely made things more interesting and fun for the participants.
After a lunch break, there was a technical run of the whole performance. Since I had been popping in and out of the studios to observe the rehearsals of the groups, it was amazing to see how the groups were instantly 'lit up' on stage, presenting themselves even more. There was a careers talk afterwards with people at different stages in their careers in the dance sector, from student, professional and educator levels. Participants were very enthusiastic during this session, with a lot of them wanting to pursue dance in the future. Unfortunately, there was not enough time to answer all the questions, so hopefully, there will be more time dedicated to this part in the future!
I was very lucky to be invited to be part of the selection panel. It was such a privilege for me to be adjudicating alongside incredible professionals and to view the performances through a different lens. The groups were outstanding and presented a diverse range of performances. One thing we talked about on the panel was the ownership of choreography. Even if the work is not entirely choreographed by the dancers, they should be able to relate to choreography themselves and take ownership of it. It really shines through when they bring their individuality
and personalities to the routine!
Overall, it was such a wonderful experience for the participants and for me as well! Well done to all the groups that participated, and a huge thank you to the people who ensured the London U.Dance ran smoothly! Sadly, the National U.Dance in Glasgow this year is now postponed to summer 2021  due to the current COVID-19 situation. On the bright side, One Dance UK has moved this year's U.Dance online! Therefore, anybody who is interested can join in! Let's keep our spirits high, and keep dancing!
For more information about U.Dance Digital click here.
About the authors:
Katie Taylor is a visual artist and dancer based in Scotland. She is currently studying Contemporary Art Practice at Grays School of Art in Aberdeen. Her practice focuses on the body and its connection to the environment and uses her own body as her main way of exploration and development also, alongside film, photography and mark-making.
Artist Instagram: @artbyktt
Website: https://katieteatea.wixsite.com/website
Rachel Li is originally from Hong Kong and is in her final year at the Rambert School of Ballet and Contemporary Dance in London. As a dance artist, apart from performing and choreographing, she is a strong believer in dance being for everybody and hopes to one day contribute to developing the dance industry back at home.
Instagram: @rachelliyanting