NEWS
Sujata Banerjee Dance Company to perform at Wemba's Dream: Join the Journey
Three free-to-attend family-friendly performances of music, dance, poetry and carnival arts will take place in Wembley Park on Sunday 3 September.
Share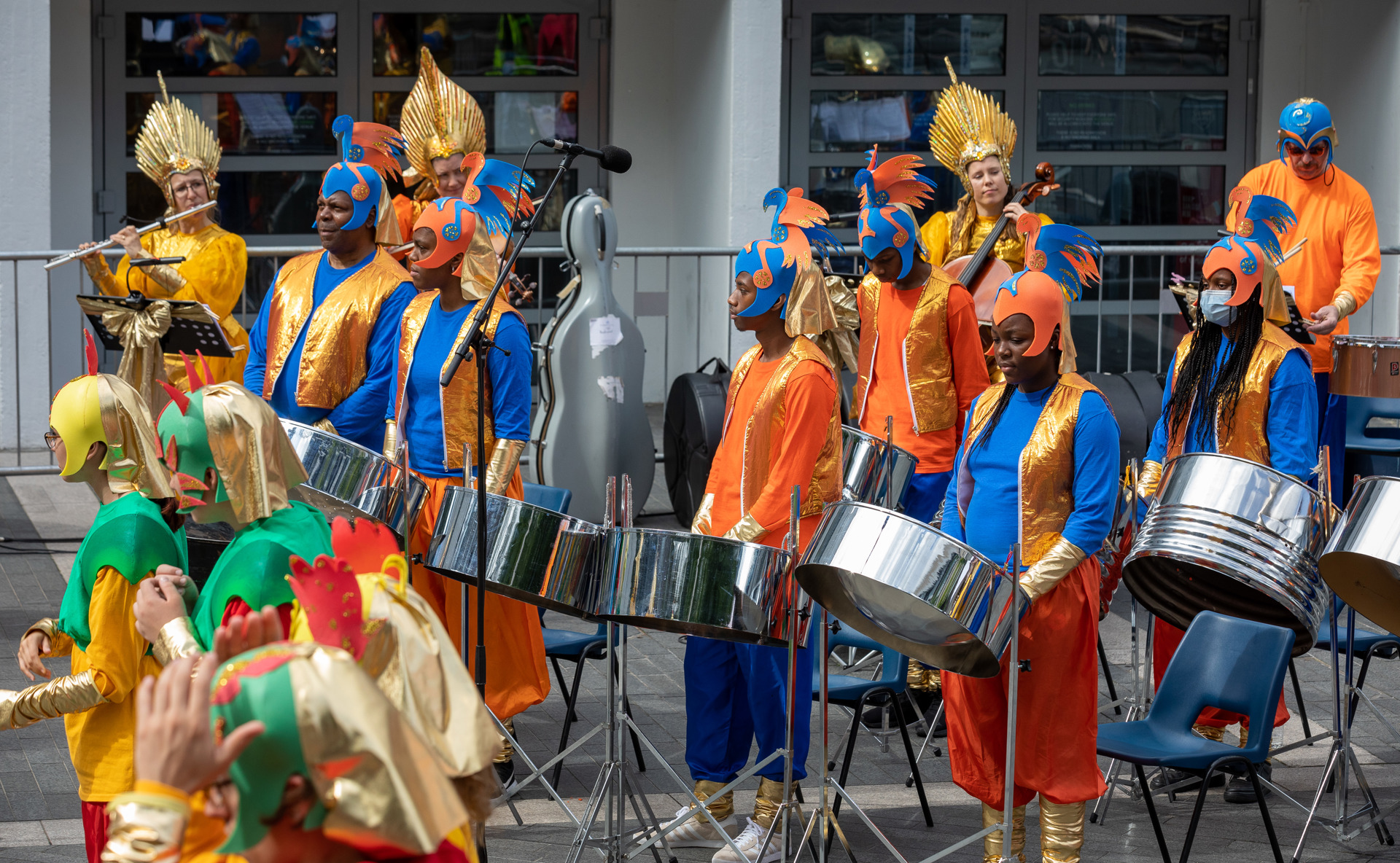 The Royal Philharmonic Orchestra (RPO) is returning to perform with local artists and performing groups in Wembley Park this September, as Wemba's Dream: Join the Journey becomes a reality. Three free-to-attend family-friendly performances of music, dance, poetry and carnival arts will take place in unique urban locations in London's most exciting new neighbourhood, Wembley Park, on Sunday 3rd September 2023. 
Wemba's Dream: Join the Journey follows the story of Anglo-Saxon traveller Wemba, who, in 825ad, journeyed to settle on the clearing in the forest ('lea' in Anglo-Saxon) that would be named Wemba's Lea (or Wembley). Wemba's journey was the first of a multitude, with people travelling from across the world to the heart of Brent. The performance looks at how we all take our own journeys, which shape our lives in unexpected ways with hope, anticipation, joy, sadness, self-discovery, and new perspectives that change how we see the world. It celebrates the resilience of those who cross oceans and continents to find a place to call home, overcoming barriers and struggles to find freedom and tell their stories through art.
The original performance of Wemba's Dream took place in 2021; the second had been planned for 2022 but was postponed due to the passing of Queen Elizabeth II. This second instalment, Wemba's Dream: Join the Journey, on 3rd September 2023, will feature a 50+-piece orchestra along with performers from St Michael & All Angels Steel Orchestra, Mahogany Carnival, Word Up and the Sujata Banerjee Dance Company, together with the RPO.
The show will begin in The Undercroft, the newly created performance space located under the Olympic Steps leading up to Wembley Stadium, before journeying to the multi-purpose space at Green Parking, a short walk away. Notting Hill Carnival costume legends, Mahogany Carnival Arts, will lead the audience in a procession from The Undercroft to Green Parking as part of the event.
Three performances of Wemba's Dream: Join the Journey will take place, at 1.15pm, 2.30pm and 3.45pm on 3rd September, with a total audience capacity of 1,500 people. Tickets are free and must be booked in advance, at wembleypark.com/wembas-dream.
Rising star Dani Howard, The Times 2022 Breakthrough Artist of the Year nominee and 2022 South Bank Sky Arts Awards Classical Music Category nominee, is behind the composition of Wemba's Dream: Join the Journey. The 30-year-old contemporary composer is known for her fresh approach, reaching new audiences, and breaking down barriers to classical music. Howard has worked collaboratively with RPO musicians, and the Brent-based performers to create new scores and reimagined arrangements.
"Teaming up with these exceptionally talented local artists from Brent has been a truly inspiring experience. I've found immense joy in championing their creative spirit and aiding in the creation of new works, which I am confident audiences will love. The spectacle of the Royal Philharmonic Orchestra sharing the stage with our local talents promises to be a unique and electrifying live event. I'm beyond thrilled that we're bringing this show to fruition in Wembley Park this September." - Dani Howard, Composer
 The free performance experience comes ahead of the RPO moving its headquarters to Wembley Park in 2025 and is the realisation of its long-held ambition to imbed the Orchestra in a diverse community, in line with its mission to be a truly inclusive and contemporary international orchestra for the modern age. Wembley Park is the ideal acoustic and artistic backdrop for exciting new performances and as the second most culturally diverse borough in the UK, Brent is the ideal setting.
"We are delighted to mark the enduring partnership between Wembley Park and the RPO through this creative event, aimed at highlighting Brent's finest talents and celebrating our local heritage. Wemba's Dream, with its innovative and fresh take on orchestral music, is a jewel in our calendar of annual events here at Wembley Park. The fact that it's returning this year thrills us immensely. With the rich and diverse creative talent in Brent and the RPO, we're certain Wemba's Dream will strike a chord with our local audiences." - Josh McNorton, Cultural Director, Wembley Park
 "Our vision is to ensure that everyone, everywhere can experience the thrill and excitement of live orchestral music. Community engagement and inclusion play a central role in that. We want everyone to feel welcome, from our current audiences to those who have never before experienced the power and the beauty of live classical music. The Royal Philharmonic Orchestra is on a journey to build an inclusive, relevant and exciting orchestra for the modern age, where musicians from all backgrounds have equal opportunities based on merit. Our projects in Wembley Park are perfectly aligned with that vision and we are delighted to be reaching new and diverse audiences this September with Wemba's Dream: Join the Journey." - James Williams, Managing Director, Royal Philharmonic Orchestra
For more information and to book free tickets to Wemba's Dream: Join the Journey, visit wembleypark.com/wembas-dream, find us on Facebook or follow us on Instagram.