NEWS
Dance Consortia North West announces four more commissions for its dance research programme
DCNW's Research Programme looks to create growth for dance in the North West by developing and sharing work that explores the future of dance.
Share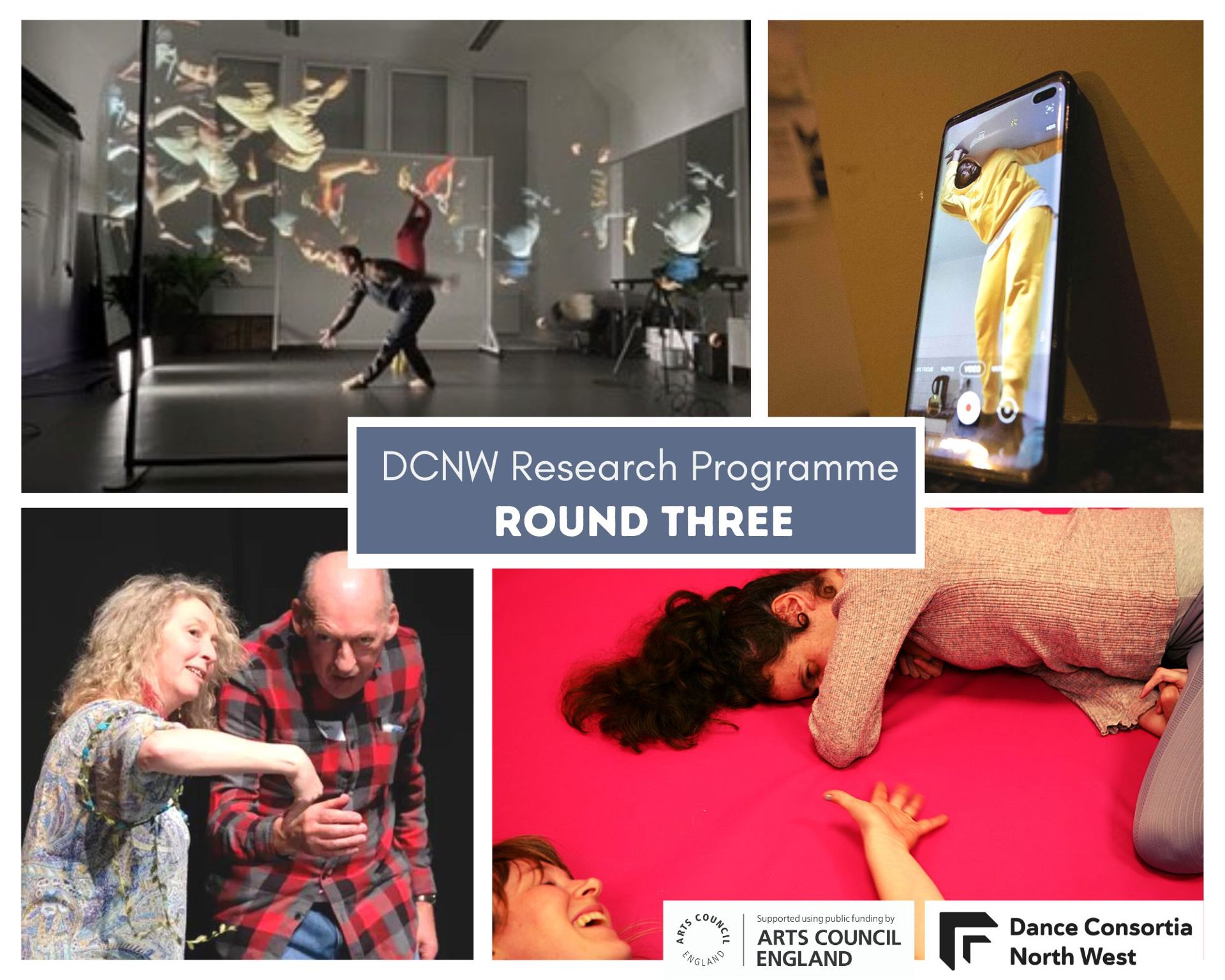 Dance Consortia North West has awarded an additional 4 commissions to artists in Round Three of the DCNW Research Programme which looks to create growth for dance in the North West by developing and sharing work that explores the future of dance.
Supported by Arts Council England, the 2-year programme which to date has commissioned 14 projects, is now focused on sharing and showcasing work through open labs, platforms, live performances, symposiums and dissemination events.
The 4 recipients in this round will create increased opportunities to perform and/or generate increased engagement with audiences and networks, and will share their work, resources and knowledge to further develop their work and careers and to strengthen the dance sector.
While Rounds One and Round Two centred on making work and finding solutions to issues, Round Three is about presenting work and showcasing the quality of North West artists and companies.
Successful recipients in this round include creative director and teacher Chad Taylor, an artist collective led by UCLan Dance, Mel Brierley and Penny Collinson, and an artist collective from 24 Hope Street.
Partnerships Director at DCNW, Paul Smith has said: "This latest round of research projects has commissioned another 4 North West based dancers and dance collectives to make new or develop existing work, create new opportunities, collaborate with others and progress careers and productions.
"Round three once again offers the chance for artists to build upon their ambitions and profile the talent, knowledge and potential that lies in the region. Outcomes from the first two rounds show that dance in the northwest is strong, creative, forward-thinking and successful at meeting societal issues head on. However, the sheer number of applications submitted for this round also shows that many more opportunities are still needed for artists and companies to grow and use their talent to create dance for us all."
Sharing and learning from each other to increase resilience and growth in the sector has been present throughout all three rounds of the programme, with an emphasis on reducing inequality in the sector, generating employment opportunities, increasing partnership working and a unified drive to work towards creating a more sustainable dance sector.
Sue Harrison, panellist, added: "A great number of artists and professionals came forward with exciting proposals on how to strengthen the dance ecology in our region. It was a very difficult decision for the panel as the demand for more opportunities to expand – particularly into markets such as production and touring – remains high. Our focus this time around has been on making space to share ideas, work and knowledge with other artists, professionals and venues. Without a doubt there is still huge potential for further return on investment in dance in the northwest."
The commissions from all rounds have been open and flexible to encourage artists from a variety of backgrounds and experience and at varying career levels. To date, projects have covered a wide range of artistic practices and research questions including digital platforms, social prescribing, dance and health, diversity and inclusion, non venue-based practice and dance from the global majority.
To compliment and amplify Rounds One and Two, the third round includes work around dance integration with digital technologies; an increased dissemination of practise, methodologies and learnings; and a greater coming together of artists to strengthen networks and invigorate the current landscape.
The Research Programme is a two-year programme of research, which has commissioned artists and organisations who want to re-imagine the future of dance, be more creative, and work with artists and creators from many different backgrounds and styles of dance to reduce inequalities. The programme strives to share and use research for sustainable change in practice, engagement and dance infrastructure.
The Research Programme is funded by Arts Council England National Lottery Funding. 
About the Commissions 
24 Hope Street Artists Collective: Digital Open Labs
24 Hope Street will experiment with the use of technology when making dance. This newly formed collective of 11 North West based dance makers and a creative technologist look to increase the potential of Liverpool's dance makers by developing the scope of digital technology in dance through a series of open labs. The labs will bring together artists, technologists and critical observers - the 'outside eye' - to understand the enhanced potential of dance making when technology is paired with dance from the first stage of creation.
Chad Taylor - Lost Online
Chad Taylor asks what the negatives and positives are for dance given the digital evolution of social media and online trends during and after the Covid lockdowns. Hip Hop creative and dancer Chad will open the conversation around how social media has sparked a culture of self-validation – and how this can affect a person's mental health. His exploration will take place through development of his piece 'Lost Online', which he will adapt from a digital piece (originally commissioned by Z-arts & HOME) to a live performance for stage and non-traditional spaces.
UCLan Dance Collective - Shared Dances: Choreographies of Care
A collective of dance-based transdisciplinary researchers from UCLan Dance will ask: How can we best articulate and share movement-based transdisciplinary research in settings across the North West & beyond, and how can we develop a robust network that supports and critiques such work? Shared Dances: Choreographies of Care will disseminate the learning, methodologies and impact of co-created work from 9 movement-based practitioner research projects, creating opportunities for open and progressive dialogues that evaluate and celebrate the work.
Mel Brierley and Penny Collinson - Ten Conversations
Dr Mel Brierley and Penny Collinson, in collaboration with a group of experienced dance, health and wellbeing artists living and/or working in Cumbria and Lancashire will ask: How can health & wellbeing and dance in the community practitioners more effectively promote, develop and find support for the growth of their practice, research and training? The project seeks to reach more people in diverse communities and those with specific health and wellbeing needs. Together, the artists will look to spark strategic dialogue and form stronger partnerships to ensure quality work is more visible, accessible and clearly communicated.