NEWS
The Place announces its Spring 2024 season
Highlights include a new adaptation of Frankenstein by Mark Bruce Company and a triple bill by Phoenix Dance including Dane Hurst's Requiem.
Share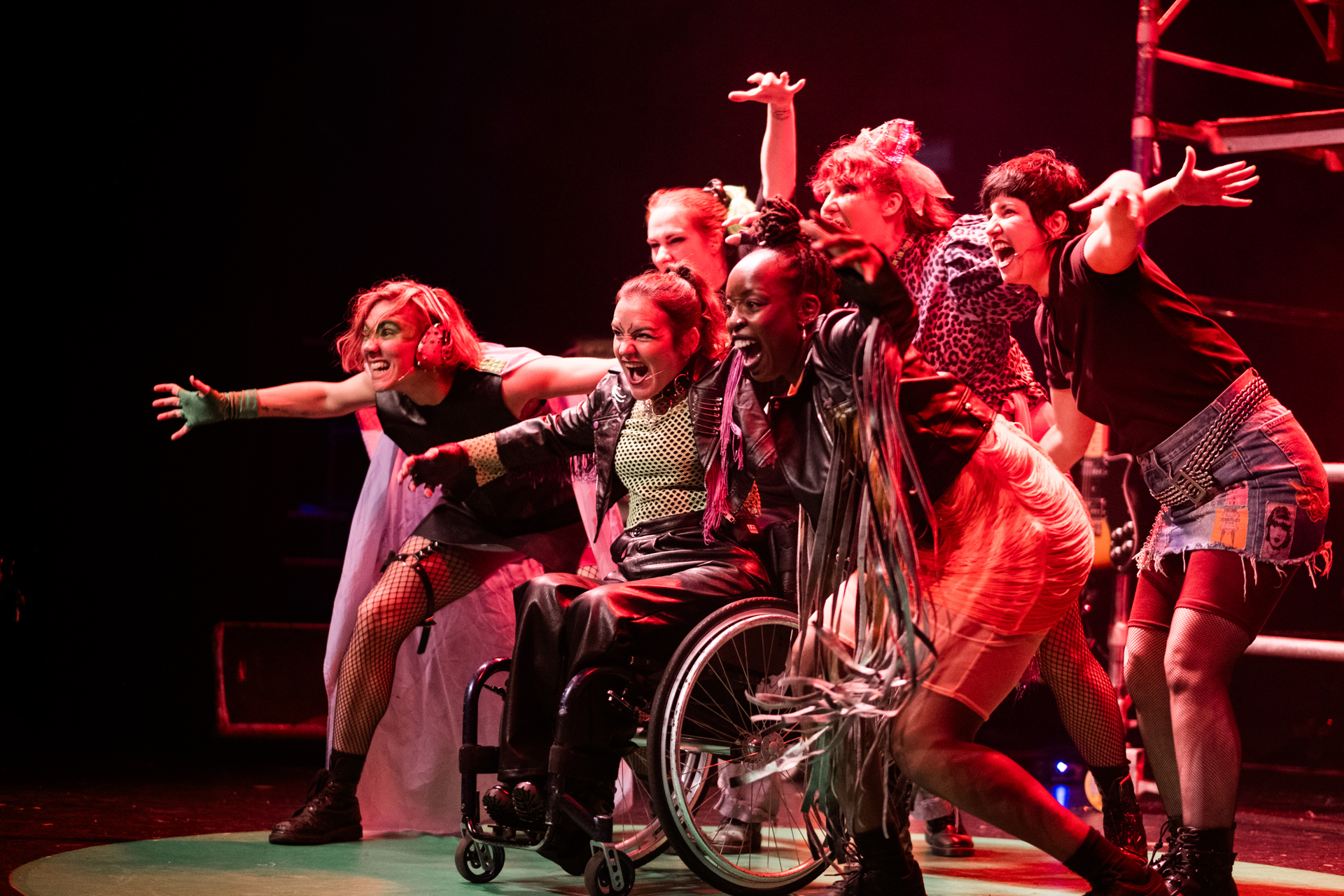 The Place, London's leading centre for dance performance and creation, is delighted to launch its spring 2024 season, with highlights including a new adaptation of the gothic classic Frankenstein by Mark Bruce Company, a triple bill by Phoenix Dance including Dane Hurst's critically acclaimed Requiem, international work by promising emerging European choreographers in the Aerowaves network, a new creation by Work Place Artist Jamaal Burkmar and family shows by Corali, Moxie Brawl, and Second Hand Dance.
Back in its original slot kicking the new year off is Resolution, The Place's annual festival of new choreography, and a staple of our programming for more than 30 years. Spring is also the time to give our stage over to young people, with performances by London Contemporary Dance School students, our annual Youth Dance Platform, Camden Youth Dance Festival and the ever-popular Camden Primary Schools showcase.
"Our Spring Season thrills with bold new work from emerging and established makers alike. The New Year opens with Resolution festival, featuring fifty four exciting experiments in choreography; we present new work by Extended Play (Jamaal Burkmar), Mark Bruce Company and Phoenix Dance Theatre; and we welcome touring work from Portgual and Belgium, presenting BRABA PLATFORMA and Loraine Dambermont, two artists of the Aerowaves Twenty Cohort. Thinking about how dance can become more accessible to different makers and audiences continues to drive a lot of our thinking, and we are really pleased to present innovative accessible work across the programme, with presentations of 'A Queer Collision' by Stuart Waters, exploring mental health and queer joy, and work for families and young people by Moxie Brawl, Second Hand Dance and Corali." - The Place Programming Team
Highlights of the spring 2024 season include:
Frankenstein – A Double Bill by Mark Bruce Company (26-28 Mar)
How to Build a Universe by Extended Play (1 & 2 Mar)
A Queer Collision by Stuart Waters (16 & 17 Feb)
Movement Language, a double bill of international works by Aerowaves Artists (22 Feb)
a triple bill by Phoenix Dance Company, including the critically acclaimed Requiem (22&23 Mar)
Resolution, the biggest annual showcase for new choreography in the UK, is a key event in the contemporary dance calendar. Back in its original programming slot kicking off the new year, Resolution returns to The Place across 18 nights offering 54 artists a platform to present their work on an established London stage.(17 JAN – 9 FEB).
The Place's annual Youth Dance Platform 2024 highlights the best of youth dance from across London and the South East, showcasing an exciting mix of styles in an evening of inspiring dance created with, by, and for young people. Previous companies have included Shift, The Place's resident senior youth dance company, Khronos (Brit School), Project Female (Brighton), Arunima Kumar Dance Company, Traceworks Youth Dance and AkomaAsa Youth Performance Company. (10 FEB).
Moxie Brawl, a spicy inclusive dance theatre company, presents Punk Alley, a family show full of heart, that combines original punk music and high energy dance to create a vibrant and fun space for children and young people to explore what they want to use their voice to fight for. A loud, wild, and unapologetic joyride, this is a punk show for everyone, introducing Lazurr Tuts, a world-famous guitar-wielding, foot-stomping punk band made up of misfits and outcasts.
The show is BSL interpreted, and everyone is invited to participate in writing placards, playing music, and setting their inner anarchist free. The show is preceded by a movement and theatre workshop for ages 5-11, based on the themes of Punk Alley, with artist Sarah Blanc leading through movement and creative tasks and theatre making exercises to the backdrop of punk music. (14 FEB).
In A Queer Collision time hops through private and historical queer stories that are both funny and poignant. Against a backdrop of LGBTQIA+ social history, Stuart Waters and Willie Elliot go on a journey through tales of mischief and misadventure using dance, spoken word and comedy.
Audio description has been embedded within the creative process, creating an innovative experience that is resonant and accessible for those with and without visual impairment.
Premiered in Brighton Festival (2023), A Queer Collision is a transformative, cross-artform night out. Stuart and Willie are joined by cabaret artist Ebony Rose Dark and stilettos artist Rajan Das. (16 & 17 FEB)
Movement Language is a double bill of international work from two of the most recent Aerowaves Twenty artists: BRABA Platforma (Brazilian choreographer Gaya de Medeiros) and Belgian artist Loraine Dambermont. Movement emerges from language in both these works which speak, in poetic and frank ways, to politics, identity and complexity.
Atlas da Boca (Atlas of the Mouth) explores two trans bodies through the mouth. As a symbol, the mouth becomes the interface between the public and the private, between the erotic and the political, between silence and the word that lasts. Questioning the idea of "words-gestures", this piece delves into the moments in which the mouth hardens, letting the words come out roaring.
Toujours de 3⁄4 face! by Lorraine Dambermont is a punchy hyper-energetic solo performed as a survival guide with athleticism and humour. The three-quarter angle is the most effective defensive stance, according to YouTuber Johnny Cadillac, whose karate tutorials went viral in Belgium. Pushing the physical and mental virtuosity of the performer to the limits with hyper fast movements, extreme precision and musicality, Dambermont also tackles the complex Belgian identity through movements which reveal a paroxysm of self-mockery. (22 FEB)
Camden Youth Dance Festival is a celebration of dance by young people across the borough, aged 11- 18 years. Performing for an audience of family and friends on a professional stage is a highlight in the calendar for the participating groups and a wonderful opportunity for young people to share the passion and enthusiasm that they have gained through participating in dance. 28 FEB)
How to Build a Universe is the newest creation by Extended Play, the company of choreographer and Work Place Artist Jamaal Burkmar. Five people find themselves in a blank void between worlds. Led by a mysterious voice, they set out on an adventure to create a new universe, one shape at a time. As they dance their way through a cosmic orientation, echoes of past creations rise and fall. The real magic happens when they must welcome new cast members who arrive without a map or instructions. Together, they improvise, weaving a tapestry of movement and emotion to bring a new universe to life, on a journey where dance, art, and spontaneity come together to create something unique. (1 & 2 MAR)
London Contemporary Dance School undergraduate (11-15 MAR) and postgraduate students (4-8 MAR)  take to the stage for a mixed bill of performances created in collaboration with commissioned artists Dollie Henry, Vicky Mantey (aka Skittles) and Divya Kasturi
The annual Camden Partner Schools Festival is a culmination of ten weeks of dance in primary schools in Camden. The children have been working with dance artists to perform their own creative dance explorations, all themed around curriculum topics that the children are learning in the classroom. Their final performance is a joyous celebration of creativity. (18-20 MAR)
Phoenix Dance Theatre presents BELONGING: Loss, Legacy & Love, a powerfully visceral and thought-provoking triple bill which explores the nuances of human experience by three exciting international dance makers. Terms of Agreement, a new creation by Artistic Director Marcus Jarrell Willis and his first work created for Phoenix, is the third work of his choreographic series, Terms & Conditions expanding on the series' overarching question, what is true love? Further to understanding this, once you have negotiated the terms, will you accept the agreement?
Former Phoenix Artistic Director Dane Hurst's critically acclaimed Requiem is a powerful reimagining of Mozart's awe-inspiring choral lament and an emotional response to the grief experienced by so many during the pandemic. Miguel Altunaga's as yet untitled daring new work explores mankind's relationship to tribe and community, mythology and deity, ritual and surrealism, and how choices made by our ancestors shapes our cultures as well as our very being. (22&23 MAR)
The Place is very excited to host the London premiere of Frankenstein – A Double Bill by Marc Bruce Company. In this surreal and timeless adaptation of Mary Shelley's classic gothic novel, alchemy and science collide as Dr Frankenstein, goaded by an otherworldly entity, unlocks the secrets of the creation of life. Jonathan Goddard plays the role of Frankenstein's tragic monster, sewn together from the shreds of humanity, rejected and wandering in a timeless landscape, beautifully portrayed in this profound and deeply moving production. Frankenstein features evocative music from Chopin, Penderecki and Arvo Pärt, and is performed by an exceptional cast of six dancers together with the world-class creative team of previous productions such as Dracula, The Odyssey, Macbeth and Phantoms.
Frankenstein is preceded by a shorter work, Liberation Day. A powerful, contemplative dance work about life, love, and the passing of time, danced to songs written by Bruce. With a unique choreographic language, distinctive imagery and eclectic musical scores, Bruce's work draws from a broad spectrum of influences and has a strong cinematic quality. (26-28 MAR) 
The Sticky Dance by Second Hand Dance, created by Rosie Heafford and Takeshi Matsumoto, is an interactive, engaging and colourful performance installation for children and their families. Three dancers' shimmy through the audience weaving a tapestry of sticky tape in a tactile dance performance that encourages young audiences from 3-5 years with parents/carers to tape, stick and groove, to see and feel sound or to be still, watch and listen. The installation is open for 2 hours for each performance and audiences can explore freely, choosing how they engage and turning the rules upside down. (3 & 4 APR)
Super Hot Hot Dog is the first ever family show from Corali, a leader in dance created by artists with a learning disability. Taking place over one day at the seaside, Super Hot Hot Dog is a holiday adventure to remember, featuring ice cream, underwater sea creatures, a funfair, and a fantastic roller coaster ride.
Devised and performed by an integrated cast, with costumes and design by artist Tim Spooner and a soundtrack designed by DJ Marcy (Camille Larere), Super Hot Hot Dog will be presented as a relaxed performance for all the family. Recommended for neurotypical children age 4yrs-11yrs and neurodiverse audiences 4yrs + (6 APR)