NEWS
Sadler's Wells nurtures the next generation of dancers and choreographers
Sadler's Wells has announced the new dance artists joining two of its headline artist development programmes: Young Associates and NYDC.
Share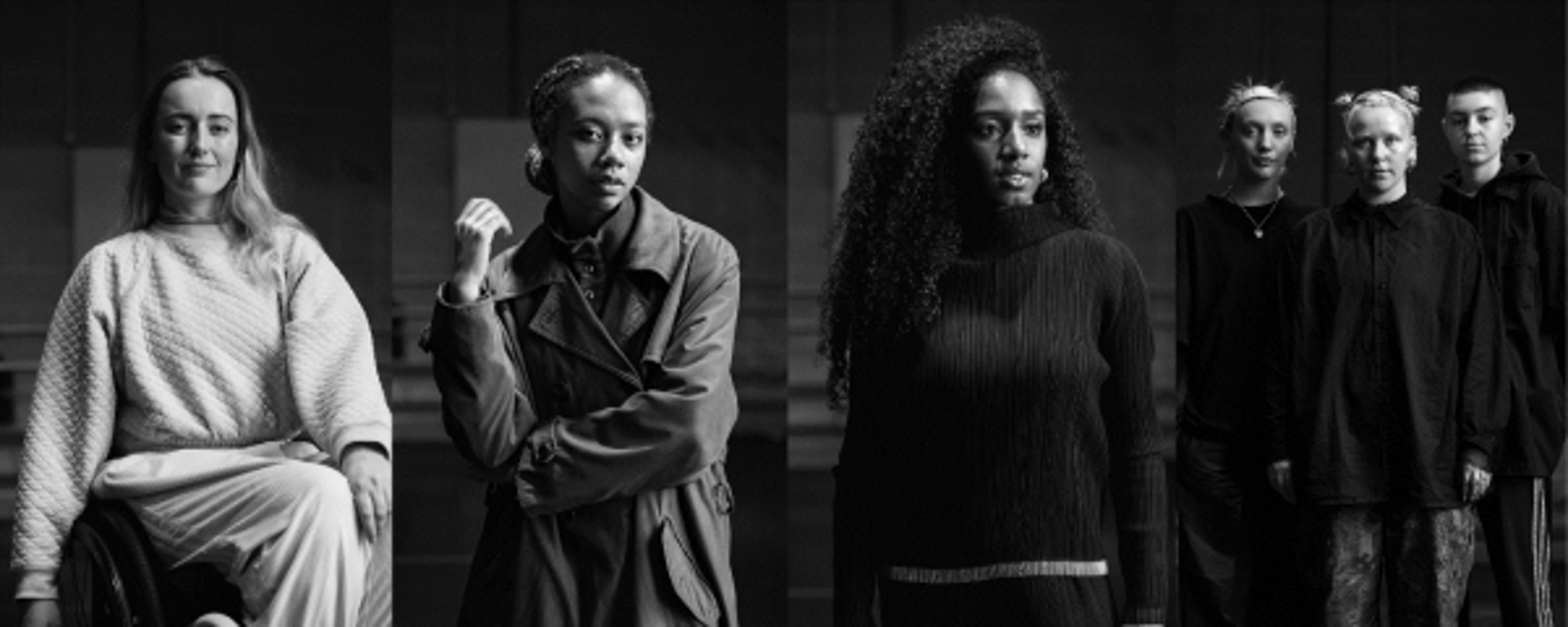 Sadler's Wells today announces the new dance artists joining two of its headline artist development programmes, as part of its Learning & Engagement work.
The four new Sadler's Wells Young Associates for 2023/2024 are: Tough Boys Dance Collective (TBDC), Maiya Leeke, BLUE MAKWANA and Elisabeth Mulenga. They are the third intake of dance makers aged between 18 and 26 who will receive support from Sadler's Wells over the next two years.
The new cohort includes a queer-led dance theatre collective that explores ideas of community and its intersections with gender, sexuality, religion and class, a choreographer whose work is rooted in her background as a jazz saxophonist and discovering a physical language of hope. A choreographer who fuses different dance styles to focus in on specific stimulus such as hairstyles and how they're portrayed in the media, and a dance artist whose work is at once unflinching, tender and intimate, and takes inspiration from film directors to explore the human psyche.
The Young Associates programme, launched in 2018, supports Sadler's Wells mission to nurture the next generation of talent. Guiding early career choreographers to deepen their understanding of their own artistic practice, whilst gaining valuable insight into dance production. The initiative provides a crucial first step into their career as choreographers. The artists receive a tailored programme of professional development and support, including the opportunity to present their work as part of Sadler's Wells artistic programme.
The National Youth Dance Company (NYDC), the country's flagship company for young dancers which is run by Sadler's Wells, has selected its next intake for its 10th anniversary year. With 35 dancers, aged between 16 and 24 years old, hailing from 19 towns, cities and villages across England it's a truly nationwide company. The new cohort joins Guest Artistic Director and Sadler's Wells Associate Artist Wayne McGregor CBE to work on a new piece which premieres at The Lowry, Manchester on Saturday 15 April, before touring.
The 35 dancers of National Youth Dance Company's New Cohort for 2022/23 are:
Matthew Atkinson (Lanchester), Milly Bajpai (Brighton), Krish Bhakerd (Bristol), Jayda Dawkins (London), Samuel Defty (Durham), Gabriel Dunn (London), Alyssa Eve (Brighton), Freya Hattam (Newcastle upon Tyne), Corlee Haverty (Coventry), Alex Johnston (London), Ali Jones (Impington), Lucas Jones (Brighton), Jewels Kemp (Lake District), Charly Knights (Leamington Spa), Nic Lee (Manchester), Meg Morgan (Bristol), Phoebe Mufushwa (Winchester), Kitty Newton (Haslemere), Blaise Noon (London), Ace Papworth (Hertfordshire), Beth Rogers (Manchester), Aoibh Ryan (Manchester), Lila Sefi (Falmouth), Venus Shury (London), Emma Staples (Brighton), Judd Tucker (Nottingham), Lydia Uwanogho (London), Perry Wade (London), James Cale (Nottingham), Aimee Farrell (Brighton), Jocelyn Johnson (Derbyshire), Josie Linscer (Brighton), Renée Miller-Reid (London), Adhya Shastry (Reading) & Maddy Westhead (Penryn).
Joce Giles, Director of Learning & Engagement said, "2023 marks a milestone in Sadler's Wells history of nurturing and supporting young dancers and dance makers across the country. We are delighted to announce the incredible young dance makers who will join Sadler's Wells as Young Associates for 2023/24. Tough Boys Dance Collective, Maiya Leeke, BLUE MAKWANA and Elisabeth Mulenga are fantastic young, emerging artists, all pushing their practice in interesting directions and we're delighted to be working with them over the next two years. Also, National Youth Dance Company celebrates its 10th anniversary year with the announcement of its new cohort and the premiere and national tour of a new work by Wayne McGregor, created on the company's new cohort of diverse and talented dancers. The Company will also be delivering activities that enable thousands of young people in England to engage with dance and the work of NYDC. It is vital we continue to give young artists the opportunities to create and perform and I can't wait to see the work of the Young Associates and NYDC on stage over this coming year."
About The Young Associates 2023/24 Cohort
Maiya Leeke is a London based choreographer, performer, and teacher whose work reflects her background as a jazz saxophonist and a contemporary dancer. Leeke is an alumnus of NYDC's ninth cohort and has an MA from Northern School of Contemporary Dance where she danced with Candoco Dance Company. Leeke was a finalist in BBC Young Dancer 2022. Her artistic practice continues to be influenced by her research with Hawk Dance Theatre, Mimbre, and Alleyne Dance. Her choreography is rooted in exploring the physical language of hope and freedom of her voice.
Elisabeth Mulenga is a London based dance artist. Mulenga was born in Birmingham and is of German and Zambian heritage. Her choreography comes from a practice of sensitivity and awareness, aiming to highlight a range of lived emotional experiences. Her choreographic choices are also influenced by her spirituality and cultural identities.
Mulenga is an alumnus of NYDC's eighth cohort and trained at Rambert School of Ballet and Contemporary Dance. Mulenga has performed in works by Thick & Tight, Jessica Nupen, Magnus Westwell, Kennedy Junior Muntanga, Ivan Michael Blackstock, Gianna Gi and Russell Maliphant. In April 2022, she competed in the Grand Final of BBC Young Dancer 2022, winning the Choreographic Innovation Award for her solo Eli, Eli, Lama Sabachthani?.
BLUE MAKWANA is a London based choreographer and performer whose work ranges from focusing on a specific stimulus, to being abstract, with appreciation of movement expression and tone. MAKWANA is an alumnus of NYDC's fourth cohort. Having trained in contemporary dance, ballet, jazz, commercial and musical theatre, MAKWANA aims to utilise her versatile skill set and incorporate elements of fusion in her work.
Often using the skull and hair as a focal point in her personal work, she aims to show appreciation and acknowledgement of a range in hairstyle choices and experiences, and how they're portrayed in the media. Her choreographic goal is to focus on the dancers she works with, exhibiting their strength in continuously evolving and entertaining work.
Tough Boys Dance Collective (TBDC) is a queer led dance theatre collective who create multidisciplinary works. Composed of co-founders Sula Castle, Roseann Dendy and Daze Hingorani, the collective was established in 2021 during their training at Trinity Laban.
Hingorani was born and raised in London, spending their youth immersed in theatre and literature. Castle and Dendy grew up in Scotland's central belt, each bring their nuanced perspectives influenced by Scottish culture in relation to Catholicism, folklore and the working-class experience. Pulling from phenomenological research, TBDC's work explores ideas of community and its intersections with gender, sexuality, religion and class.
National Youth Dance Company's New Cohort for 2022/23
Covering all regions across the country, 22 workshops took place between June – August 2022 to select the new members for the 2022/23 intake, who have joined six returning dancers from last year's cohort. All 35 dancers are aged 16-24 and come from a range of different dance backgrounds.
During the dancers' time with NYDC, they are offered a unique insight into the dance profession, living and working closely together as a company, alongside NYDC staff and the artistic team. The year-long experience within the company provides members with the necessary skills and techniques to find career opportunities and raise aspirations, self-esteem and confidence. The dancers are mentored during four intensive residencies in school holidays to create and rehearse the new piece. The 2022/23 residencies will take place in Ipswich, Birmingham, London, Leeds and Manchester.
To mark the tenth anniversary of NYDC, Sadler's Wells Learning & Engagement department will lead activity around the country, including 100 free school workshops and five regional commissions celebrating the success of the company. Sadler's Wells will host a series of birthday parties linked to the tour dates bringing young people together to celebrate and dance.
As well as supporting dance artists we will also be supporting new behind the scenes talent with an exciting opportunity. For the tenth anniversary commission an early career lighting designer will be mentored by renowned Lighting Designer Lucy Carter.
Over the last ten years NYDC has worked with over 6000 young people through workshops and projects across the country. 313 young people have joined the company, creating ten full length dance productions by internationally renowned choreographers including Alesandra Seutin, Russell Maliphant, Botis Seva, Sharon Eyal, Damien Jalet, Michael Keegan Dolan, Sidi Larbi Cherkaoui, Akram Khan & Jasmin Vardimon.
Some NYDC alumni continue their artist development journey with Sadler's Wells, going on to the Young Associates programme including Ruby Portus (NYDC cohort two) and John-William Watson (NYDC cohort three & four). Three of the aforementioned new Young Associates are also NYDC alumni including BLUE MAKWANA (cohort four), Elisabeth Mulenga (cohort eight) and Maiya Leeke (cohort nine).
NYDC alumni have gone on to perform in leading dance companies including Matthew Bourne's New Adventures, Phoenix Dance Theatre, PunchDrunk and Cullberg Ballet. Many return to the Sadler's Wells stages, recently as Jack Frost in Birmingham Rep's The Snowman and in Jasmin Vardimon's ALiCE. Previous NYDC Guest Artistic Director Russell Maliphant brings VORTEX in May, in which two alumni will be performing.
NYDC Tour dates 2023:
Saturday 15 April The Lowry, Manchester
Saturday 3 June, Sadler's Wells, London
Saturday 8 July, Jerwood DanceHouse, DanceEast, Ipswich
Saturday 15 July, The House, Plymouth
Tuesday 18 July, DMU, Leicester