NEWS
Sadler's Wells Digital Stage – Take Part: Taster Dance Workshops
Sadler's Wells offers a series of accessible dance workshops to get you moving and a chance to try out up to eight different dance styles.
Share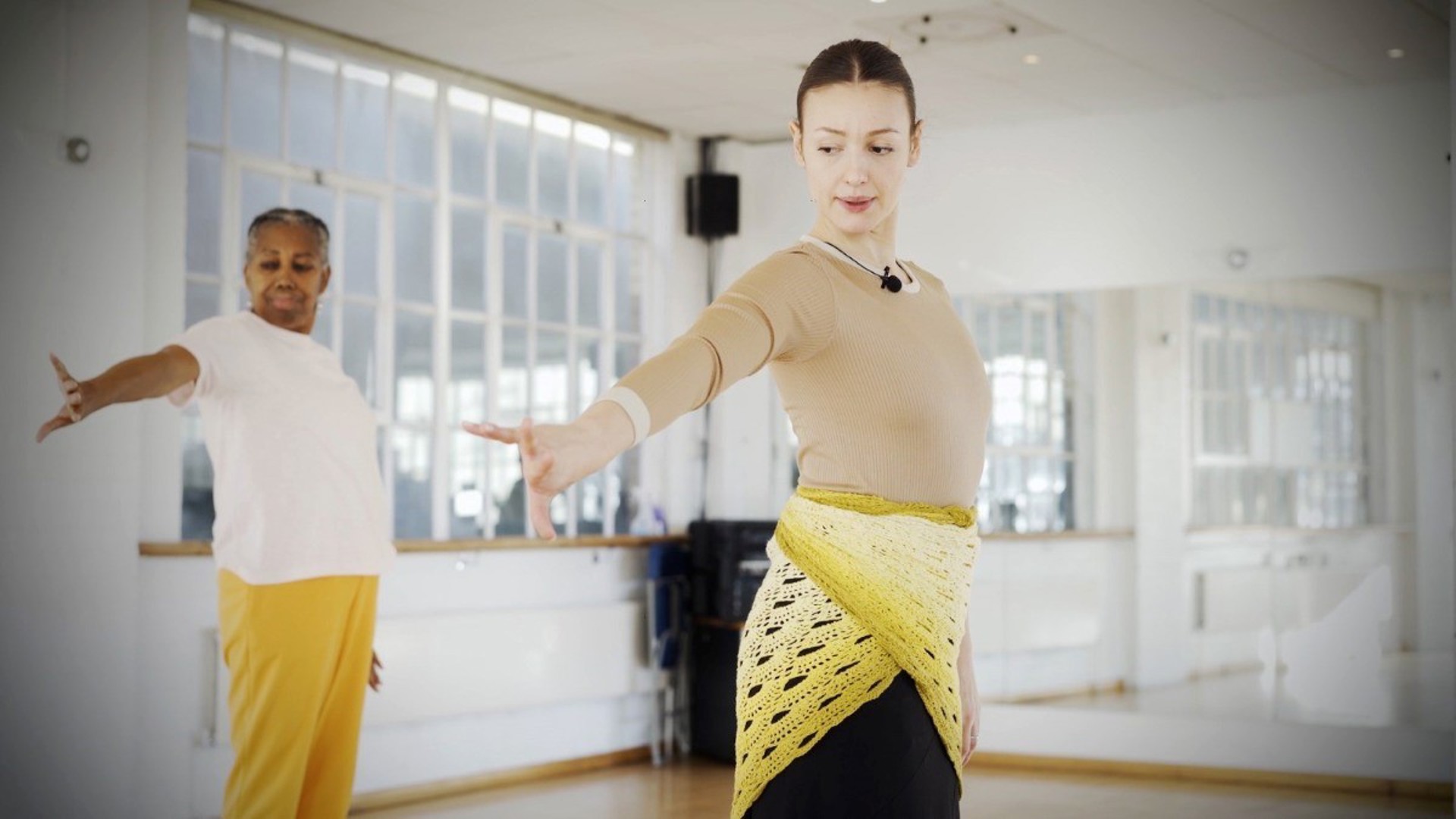 Getting 2023 and your New Year resolutions off to an energising start, we welcome Sadler's Wells' Taster Dance Workshops back to Digital Stage this week. Sadler's Wells offers a series of accessible dance workshops that provide 5-minute sessions to get you moving after the festive break and try out up to eight different dance styles, across 31 bitesize videos. The episodes are aimed at anyone keen to experience new dancing techniques, one step at a time. With introductions to breaking, flamenco, kathak, contemporary dance, Afro fusion, vogue, commercial dance and ballet, all ages and abilities can have fun experiencing the moves. Watched by more than 31K people since January 2022, Sadler's Wells' Digital Stage is delighted to offer the following list of accessible dance tasters:
Afro fusion
This series offers a mini tour of West Africa, exploring grooves that originate from Ivory Coast, Nigeria, Togo and Ghana. Dancer, teacher and choreographer Patience J, who has performed with Breakin' Convention, shares some Afro dance along with participants Bella, Dahlia and Ranjini, who are trying these moves for the first time. These workshops can be done standing or seated and can be adapted to all levels and abilities.
Ballet
This introduction to ballet is ideal for anyone who wants to enjoy the sensation and combination of soft, gentle and empowering movements in their body. Nandita is a performing artist, teacher, choreographer and the founder of Welcome Movement. She trained at the Royal Ballet School and has danced with many world-renowned companies. Nandita breaks down ballet steps with participants Makeda and Cadija. Each workshop focuses on a different element of ballet, including arms, legs and mime. The movements can be done standing, seated or even lying down.
Breaking
This series of workshops is led by Roy, Niek, Stepper and Lee, also known as The Ruggeds, an award-winning breakdance crew from The Netherlands, who compete in battles and appear on stages all over world. They danced in Justin Bieber's Where Are Ü Now music video. Breaking is a form of hip hop dance that includes acrobatics, freezes, floor moves, fast footwork and power moves. It grew from the African American and Latino communities, rooted in the funk, soul, R&B and disco music of the 1970s, but has been adapted to many musical genres, often performed with a DJ to an up-tempo beat. This workshop is aimed at all levels from beginners to advanced.
Commercial
In these beginners' workshops, the dancers explore four different routines – or combos – to give audience a taste of commercial dance and what it feels like to dance in one's favourite music video, TV series or Broadway show. Lizzie is a dancer and TV presenter who has starred on So You Think You Can Dance and has been a judge on CBBC's Alesha's Street Dance Stars. She frequently performs with Sadler's Wells Resident Company ZooNation, and also choreographs for Strictly Come Dancing. She's joined here by Jourdan and Maria, to practice some simple commercial routines that are easy to try at home. Many of these workshops can be done standing or seated and can be adapted for different levels and abilities.
Contemporary dance
In this series, Liam, a dancer with Rambert, with one of the UK's leading contemporary dance companies, is joined by participants Soraya and Betsy to explore some key aspects of contemporary dance – curving, arching, spiralling and balance. Contemporary dance is an art form that encourages creative freedom and artistic expression. It's an interpretative style that can sometimes focus on conveying a feeling, a mood or an abstract concept. Contemporary dance covers a wide range of approaches and techniques and can look very different depending on the dancer or choreographer. This workshop is aimed at beginners.
Flamenco
Magdalena and Noemí from Dotdotdot Dance give us a taste of flamenco, accompanied by participants Ghazal, Kate and Omena. With its origins in Gypsy culture of southern Spain, flamenco is a deeply passionate dance style, known for its hand clapping (Palmas) and foot stamping (Zapateado), with live singers and Spanish guitar often accompanying the dancers. This workshop is aimed at beginners and some can be done standing or seated.
Kathak
This workshop leader, Anuradha from Drishti Dance, gives a speedy introduction to some of the key techniques involved in kathak dance, including the footwork, hand movements and spins, including a short sequence of choreography. She is joined by Stephen, from Sadler's Wells Company of Elders, to help demonstrate the moves. Kathak is a north Indian classical dance form that is rooted in the art of storytelling in temples by bards, called Kathakars. It is often performed to percussions or string instruments. The dance style can be used to tell stories through movement, with hand gestures carrying many meanings. Elegant footwork and spins are key characteristics of this dance style.
Vogue
Vogue is an art form all about self expression, feeling free and empowered. This series explores some of the basics of voguing, including geometric arm movements, poses and offers a short routine to practice at home. Diva is a dance artist and teacher from The Iconic House of Miyake-Mugler, where she teaches the history, culture and art of voguing. She is joined by Ting-Ning and Max, who are trying out these moves for the first time. These workshops can be adapted for different levels and abilities and some workshops can be done seated.
All the workshops can be found on Sadler's Wells on Digital Stage