NEWS
Rambert transforms Wembley Park with a free day of brilliant and diverse summer dance classes
Wembley Park has announced a day of dance workshops with Rambert on 16 July. The event is free to attend and open to all ages and experience levels.
Share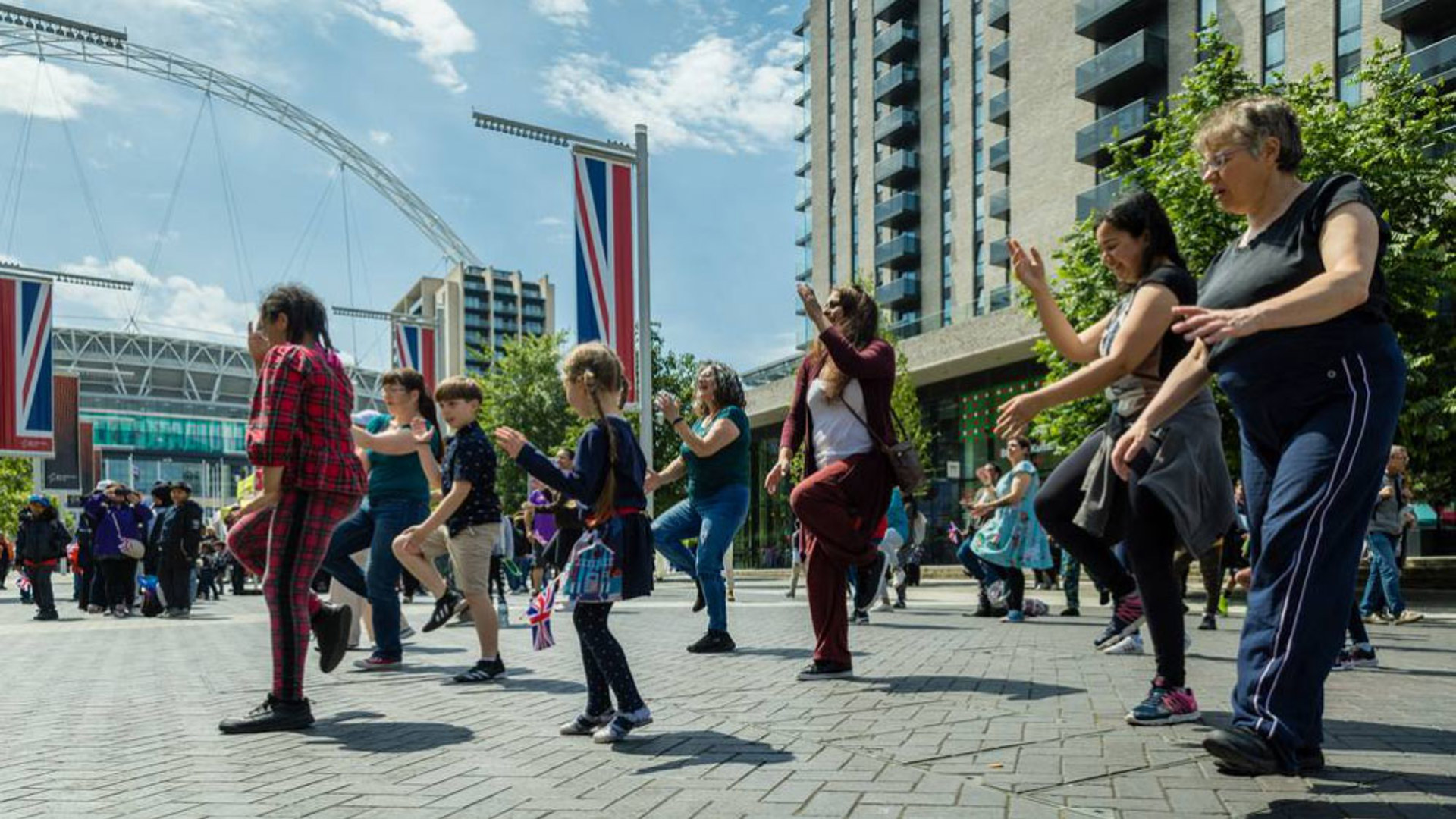 Wembley Park – London's most exciting new neighbourhood – has announced an action-packed day of dance workshops in conjunction with Britain's oldest dance company, world-famous Rambert, as part of its extensive Summer of Play events programme. Taking place on Sunday 16th July, the Rambert Dance Day is free to attend and open to all ages and experience levels.
Rambert's brilliant and diverse faculty teachers will lead a wide range of sessions, kicking off the Dance Day with Sheba Montserrat's Caribbean Dance Vibes. This session will include lessons in Caribbean and Black British history about how development of the dance, as well as the moves. With a teaching career spanning over two decades, Sheba was one of the first artists in Europe to gain a formal qualification in African and Caribbean dance through IRIE! Dance Theatre and Birkbeck University. Discussing her passion for dance teaching, Sheba says: "I hope to convey to my class participants that dancing isn't just about hearing music and looking good whilst expressing it. It's about feeling the music and the conscious delight in embodying it."
Sheba's workshops will start at 12pm and 2:15pm, with breaks for participants to rest in between each dance style.
In addition to the Caribbean Dance Vibes sessions, Danielle will guide you through her signature Disco class, with a series of 1970s moves and grooves and disco line dance, and after this you can master your Robot with Simone. Coco will bring the latest K-Pop dances and music trends in her workshop, and Emma will rewind to the 50s and 60s with Rock & Roll stroll. Then finally, find your groove, rock and bounce in the last session of the day with Rosie in her hip hop dance workshop.
The high-energy day will end with Rambert's Street Dance Foundations teacher Rose, who will offer free hip-hop dance workshops, followed by a hip-hop freestyle session for participants to showcase their personal style. Rosie, a multi-talented dancer trained in Ballet, Tap, Jazz, and hip hop, has made a significant impact as a performer and teacher across the UK, the USA, France, Denmark, Senegal, and The Netherlands. Known for her expertise in hip-hop and contemporary dance, she has collaborated with renowned companies such as Myself UK Dance Company and The Locksmiths Dance Co.
"At Rambert, we believe that to give brilliant and daring people the chance to inspire others is to give them the power to change the world for the better. We can't wait to welcome you to Rambert. It's your move, Wembley Park." – Jo Taylor, Director of Audiences, Rambert 
As one of the world's most diverse dance companies, Rambert transforms everyday spaces by creating dance that is awe-inspiring, adventurous, dynamic, and relevant, and taking it to neighbourhoods, the nation, and the world. Through performances, dance classes and courses for people of all ages and abilities, Rambert wants to ensure it is inspiring, engaging, and relevant to everyone.
Rambert Dance Day on 16th July will not be the first time that members of Rambert have wowed audiences and got them up and moving in Wembley Park. The company played a key role in the Wembley Park Jubilee Dance Party last year with its rock & roll session and Caribbean Niceness dance class, which celebrated the positive of soca and reggae vibes. Rambert also impressed audiences in Wembley Park with its spectacular production of Peaky Blinders: The Redemption of Thomas Shelby at the Troubadour Wembley Park Theatre in autumn 2022, ahead of its 2023 UK tour.
With no tickets required, the Wembley Park Rambert Dance Day is open to all those looking to learn some new moves and enjoy the energy of the experience. The event is part of Wembley Park's wider Summer of Play programme, which features activities as diverse as a creative Art in the Park session, intergalactic fun with You're Out of This World Disco and a contemporary dance performance and workshop from Traceworks.
"We're excited to be working in partnership with Rambert once again to deliver an action-packed, inclusive day of dance this summer. Wembley Park is synonymous with live performances, ranging from local phenoms to massive stars, making this a delightfully fitting way to reach new audiences with a wide variety of dance styles. We are also thrilled to be delivering a diverse range of other exhilarating events over the summer months, showcasing Wembley Park's cultural and creative heartbeat." – Josh McNorton, Cultural Director, Wembley Park
For more information visit wembleypark.com.