NEWS
New film celebrates 10 Years of National Youth Dance Company while Oona Doherty is announced as next Guest Artistic Director
Sadler's Wells has released a film celebrating 10 years of NYDC and announces that Oona Doherty will be Guest Artistic Director for 2023/24.
Share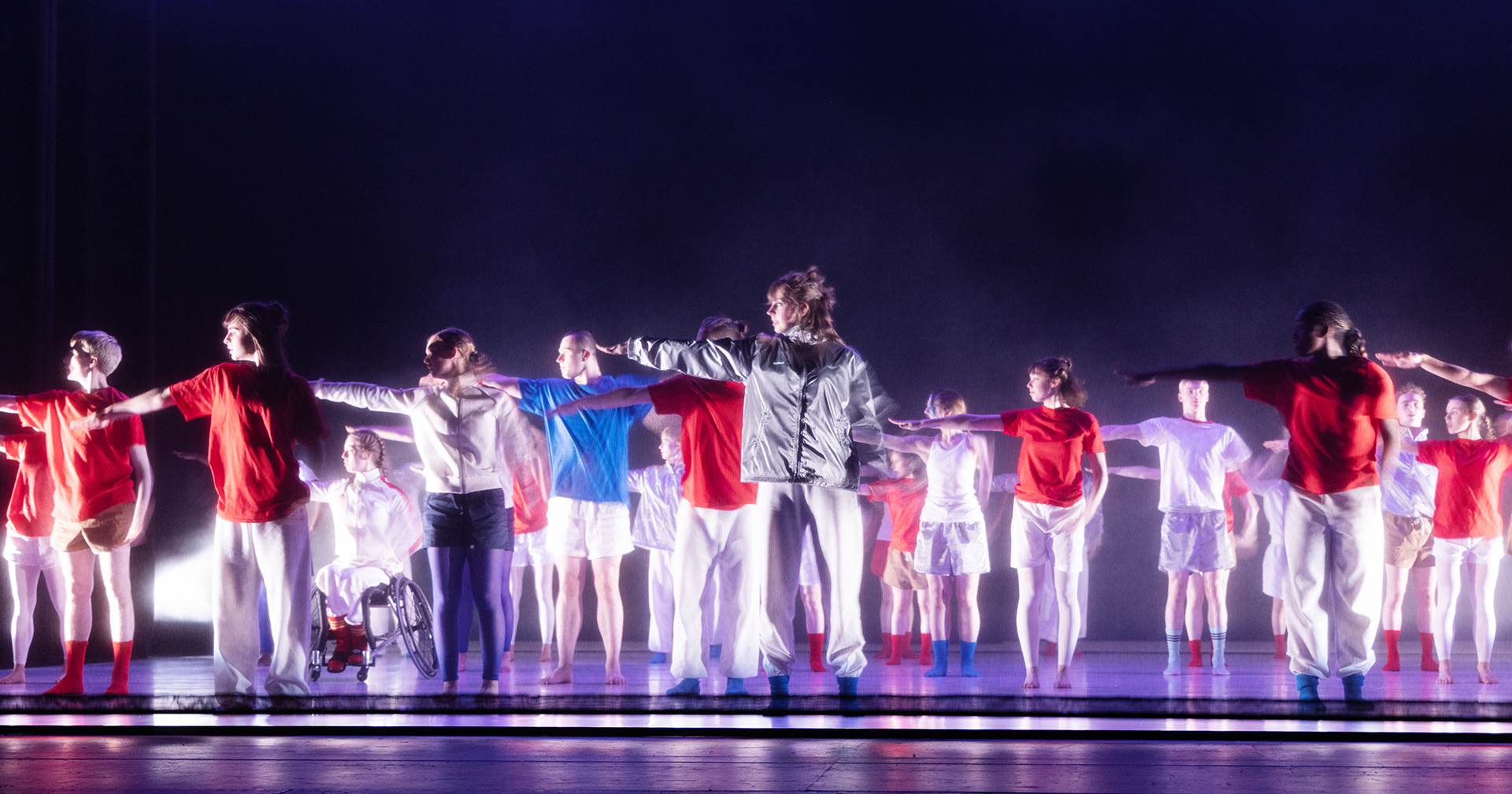 Sadler's Wells today releases on Digital Stage celebrating the first 10 years of National Youth Dance Company (NYDC) and announces that acclaimed choreographer Oona Doherty will be Guest Artistic Director for 2023/24. The company are currently on a UK tour including Latitude Festival.
Featuring interviews with all the Guest Artistic Directors including Wayne McGregor, Alessandra Seutin, Akram Khan, and Jasmin Vardimon, the documentary follows the current cohort of dancers as they prepare for the world premiere of Novacene, choreographed by McGregor, at the Lowry in Salford in April 2023. The film is directed by longtime NYDC collaborator Ben Williams.
To date, over 300 young people have been part of NYDC, with over 7000 young people taking part in workshops and projects. Nine out of ten young people who join NYDC go on to some form of work or further training in dance or the performing arts. The company has become known for its diversity, with company members coming from across the country, from different dance styles and backgrounds. Dancers come from across the socioeconomic spectrum with one quarter (24%) coming from the 30% most deprived postcodes nationally (source: Index of Multiple Deprivations).
Many NYDC alumni are currently performing around the world including Robbie Ordoña (NYDC 2017-18) in Kate Prince's Message In A Bottle, Blue Makwana (NYDC 2015-16) in New Adventures' Romeo and Juliet and a current Sadler's Wells Young Associate; Folu Odimayo (2013-14), Fern Grimbley (2013-14), Seirian Griffiths (2017-18), Jahmarley Bachelor (2014-15), Luigi Nardone (2013-14), Sharol Mackenzie (2013) in Punchdrunk's The Burnt City; Rory Clarke (2020-22) in Far From The Norm's BLKDOG; Emma Farnell Watson (2013), Zakarius Harry (2016-17) and Oscar Li (2016-17) with Hofesh Shechter Company; Conor Kerrigan (2014-15) and Archie Wood (2016-17) in Rambert's Peaky Blinders.
Oona Doherty becomes Guest Artistic Director for the 2023/24 cohort of NYDC. She was born in 1986 in London and moved to Belfast when she was 10. Doherty's ground-breaking choreography has earned her multiple awards and prestigious opportunities in Ireland, Europe and beyond. Her solo work Hope Hunt and the Ascension into Lazarus (2015) earnt her Tiger Dublin Fringe Festival Best Performer Award in 2016 and won the Total Theatre Dance Award at the Edinburgh Fringe in 2017. Her first group piece Hard to Be Soft – A Belfast Prayer was voted no.1 UK dance show of 2019 by The Guardian. Oona Doherty was awarded the Silver Lion at the Venice Biennale Danza in 2021.
Hannah Kirkpatrick, Head of National Youth Dance Company, said: "We feel so proud of everything that has happened over this first decade of NYDC. We have been lucky to work with some of the world's best choreographers and have been given a totally unique insight into their world as they made the company their own. What feels really special is 10 years on, seeing the alumni return to Sadler's Wells as professional artists or as part of the NYDC artistic teams, or being invited to run a school workshop where the head of dance used to be in the company! And it's not just dance, alumni have gone on to so many different careers showing how transferable the skills are that you learn from a practical experience like this. We feel like this is only the beginning and are looking forward to working with Oona Doherty next year as our Guest Artistic Director. We have loved her work for a long time and feel like she will be a perfect match to challenge and inspire young artists."
Darren Henley CBE, Chief Executive, Arts Council England said: "Happy 10th anniversary to National Youth Dance Company. Over those ten years the team have supported 300 brilliant role models – and isn't that amazing, if you're ten years old and you see them and think 'yes, I could do that'. Because that is what we want to do through our investment, we want to inspire people to be creative – whether that is professionally or personally. And in another ten years, some of those dancers might become directors, producers, or choreographers, while another 300 young people will have followed in their footsteps. What could that group of 600 people achieve and how could their success inspire others – that's really exciting."
Oona Doherty, Guest Artistic Director for 2023/24, said: 'I'm super excited to work with NYDC. To have a big cast like this of young people from across England is daunting and cool at the same time. Can't wait to get going and share ideas together.'
Wayne McGregor CBE, Guest Artistic Director for 2022/23, said: 'I would have loved to have been in National Youth Dance Company at 17 because it's contemporary work. It's about expressing yourself. And it's not about inheriting a form that you have to become, a specific form of theatre-making. It's about finding what that constellation of young people want to say. And I would love to have been part of that. So, when I'm reincarnated, I hope that I have that opportunity to come back and join a project like this.'
Novacene is currently on a nationwide tour with future dates at The House, Plymouth (15 July), De Montford University, Leicester (18 July), Latitude Festival (22 July) and Northern Stage, Newcastle (23 July).