NEWS
First headline acts announced for Breakin' Convention as Festival celebrates its 20th anniversary
Breakin' Convention Festival celebrates 20 years of hip hop innovation and excellence at Sadler's Wells in April 2023.
Share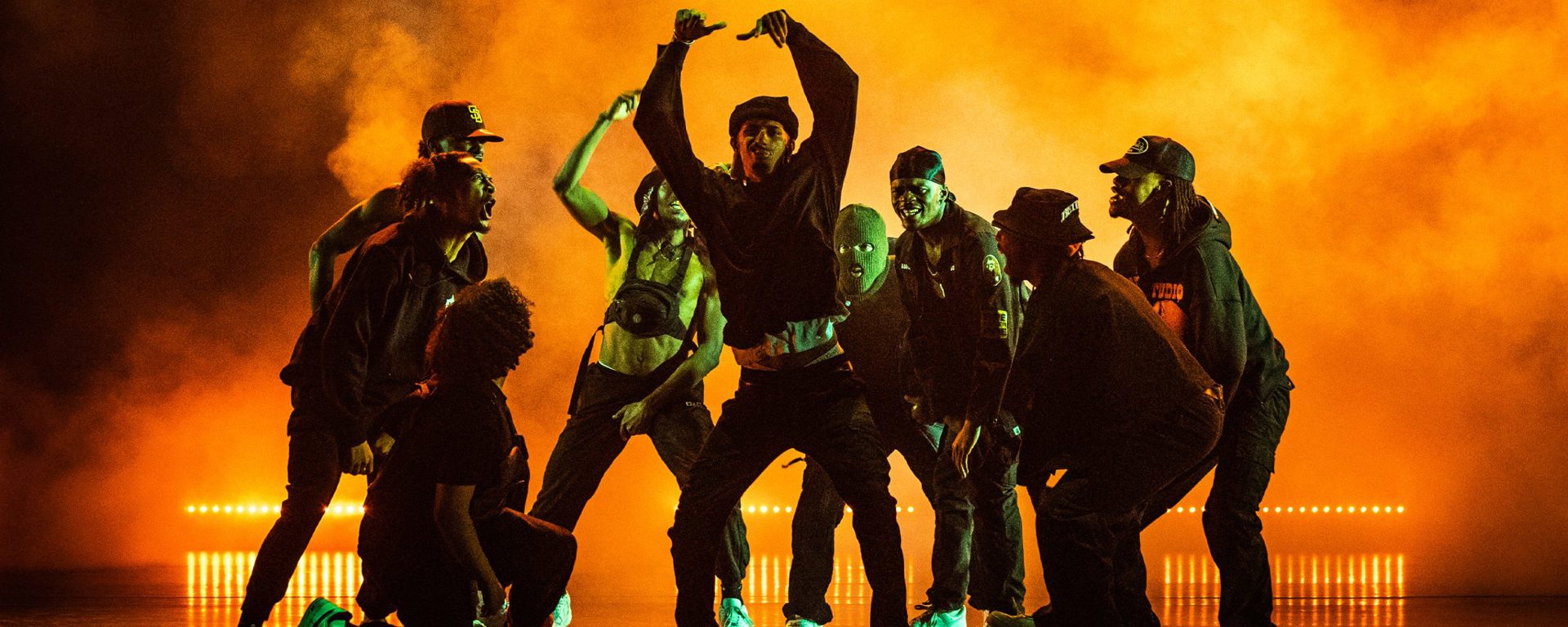 Breakin' Convention Festival celebrates 20 years of hip hop innovation and excellence at Sadler's Wells in April 2023. The stellar anniversary line-up includes Ghetto Funk Collective, b-boy Samuka, La Diva aux Pieds Nus, Far From The Norm, Justin de Jager and Boy Blue. For the first time, Breakin' Convention presents a series of events across London venues in the lead up to the Festival at Sadler's Wells.
Breakin' Convention returns to Sadler's Wells Theatre for an extended weekend to celebrate its 20th anniversary from Friday 28 April to Monday 1 May 2023 before embarking on a UK tour across nine venues from Wednesday 17 May to Wednesday 14 June.
Hosted and curated by UK hip hop theatre legend and Breakin' Convention Artistic Director Jonzi D, Breakin' Convention 2023 showcases the best of hip hop with local talents, top poppers, lockers, b-boys and b-girls, and a wide range of exciting international acts.
The foyer undergoes a total makeover, with performances from live DJs, bespoke graffiti and freestyle sessions, in an ultimate celebration of hip hop culture.
Breakin' Convention is excited to announce the first international and UK headline acts of the 2023 Festival. More international and local acts will be announced in due course.
Hailing from across The Netherlands, Ghetto Funk Collective is a dance company specialised in locking. The group came together through their mutual love for funk music and culture. Inspired by the 1970s era, the crew keeps the timeless spirit of funk powerful, with each of the eight performers showcasing exceptional dance moves.
Brazilian b-boy Samuka is a member of Ill-Abilities, an international breakdancing crew comprised of eight disabled dancers from around the world. Rather than seeing disability as a limitation, the crew focuses on their positive or "ill" abilities, showcasing their unique dance moves. Samuka had a leg amputation at 14 and since has grown to become one of the top breakers, showcasing incredible break dancing skills across international events.
La Diva aux Pieds Nus is a French dance collective made up of five Black women – Séréna Freira, Julie Laventure, Leila Miretti, Stéphie Téhoué and Mayvis William. The group performs 'Le Matin', a piece by top choreographer and dancer Nicolas Huchard, who has worked with Christine & The Queens and Madonna. The collective dances in unison across waacking, krump, popping, hip hop, house and Afro to celebrate women in their individuality and plurality.
UK dance company Far From The Norm, led by Olivier award-winning choreographer Botis Seva, creates social and political work though hip hop theatre and experimental movement. The company returns to the Festival with a piece packed with its usual relevant messages and high energy moves.
Dutch threading artist Justin de Jager presents a new piece for three UK dancers. Starting as a breaker, de Jager has been fascinated by "threading" in hip hop, where a dancer creates an opening by connecting several body parts and then passing through that opening with yet another body part. He keeps pushing the concept's limits to develop his own ideas in award-winning productions.
Joining the list of groundbreaking acts taking part in the 2023 celebrations is Boy Blue, east London's leading street dance company and the multi award-winning brainchild of composer Michael 'Mikey J' Asante MBE and choreographer Kenrick 'H2O' Sandy MBE.
Breakin' Convention Artistic Director Jonzi D said: "20 years strong! We started big. We presented pioneering og's from the US, breaking champions from Korea, and visionaries from France. We graffitied the mezzanine. We transformed the audience at Sadler's Wells Theatre. We didn't stop. We grew. 20 years later, we've become the most globally recognised brand in hip hop dance theatre. Our artistic development programmes have nurtured hundreds of artists, and I'm proud to say that next year we will welcome the first cohort into our Hip Hop Theatre Academy in the new Sadler's Wells East building. For the first time, the Festival spreads its wings to showcase artists in several London venues leading up to our bank holiday celebrations at Sadler's Wells, providing more opportunities to engage with poetry, and text based performance. We will also spread the flava across the UK with our national tour! We'll present world class crews from the Netherlands and Korea, and local dance crews from Brighton to Blackpool. 20 years has flown by. Because our values have remained intact. Our goals are clear. The concept is the same as it ever was… 'The best hip hop theatre from around the world, and around the corner.'"
Reflecting on the Festival anniversary, Sadler's Wells Artistic Director and Chief Executive, Sir Alistair Spalding, said: "Sadler's Wells is so proud of what Breakin' Convention has achieved over the past 20 years. It has grown to be an important reference point and showcase for talent today, consistently keeping a finger on the pulse of the dance world to present relevant acts that need to be seen. It's a big anniversary, and we are so excited to be opening the Hip Hop Academy Theatre in Stratford in 2024."
For the first time, a series of events take place across London venues in the lead up to the Breakin' Convention shows at Sadler's Wells. The leading events will take place at: 
The Yard 
Saturday 11 March 
Breakin' Convention presents Words Become Flesh 
The Festival breaks new ground in east London by bringing together spoken word artists and choreographers for fresh collaborations and "choreopoetry" work – a marriage of spoken word and lyrically motivated movement.  
Address: Unit 2a, Queen's Yard White Post Lane London E9 5EN
The Place Theatre 
Wednesday 12 & Thursday 13 April  
The Soweto Skeleton Movers presents 'Unbreakable', produced and co-choreographed by Lloyd's Company and directed by Jonzi D. From busking on Soweto's Vilakazi Street to touring the world, the South African crew showcases comedic contortionism, frenetic footwork and magical hat tricks. 
Address: 17 Duke's Road, London, WC1H 9PY
The Bernie Grant Arts Centre 
Saturday 15 April 
Breakin' Convention presents Open Art Surgery  
This artistic development project is about breaking down the fourth wall and showcasing raw talent and new work. Hip hop theatre companies and performers develop ideas, try out new techniques and share new work publicly under the mentorship of hip hop theatre legends like Jonzi D. 
Address: Town Hall Approach Road, Tottenham Green, London, N15 4RX 
The Festival's Artistic Director Jonzi D is due to open Breakin' Convention Hip Hop Theatre Academy in Stratford in 2024 as part of Sadler's Wells East, a new cultural hub in east London. 
In 2024, breaking will be performed as an official Olympic sport for the first time at the Paris Games. Jonzi D is Breaking GB's Culture and Community Adviser.
For the first time, Breakin' Convention presents performances by its own newly formed Youth Dance Company. The group counts young dancers aged 10 to 21. They are trained by choreographers Nicey Belgrave and Kelsey 'Hydro' Miller of award-winning hip hop dance company Boy Blue, and who also created EASTablishment in 2022.
Find out out: https://www.sadlerswells.com/whats-on/breakin-convention-2023-international-festival-of-hip-hop-dance-theatre/