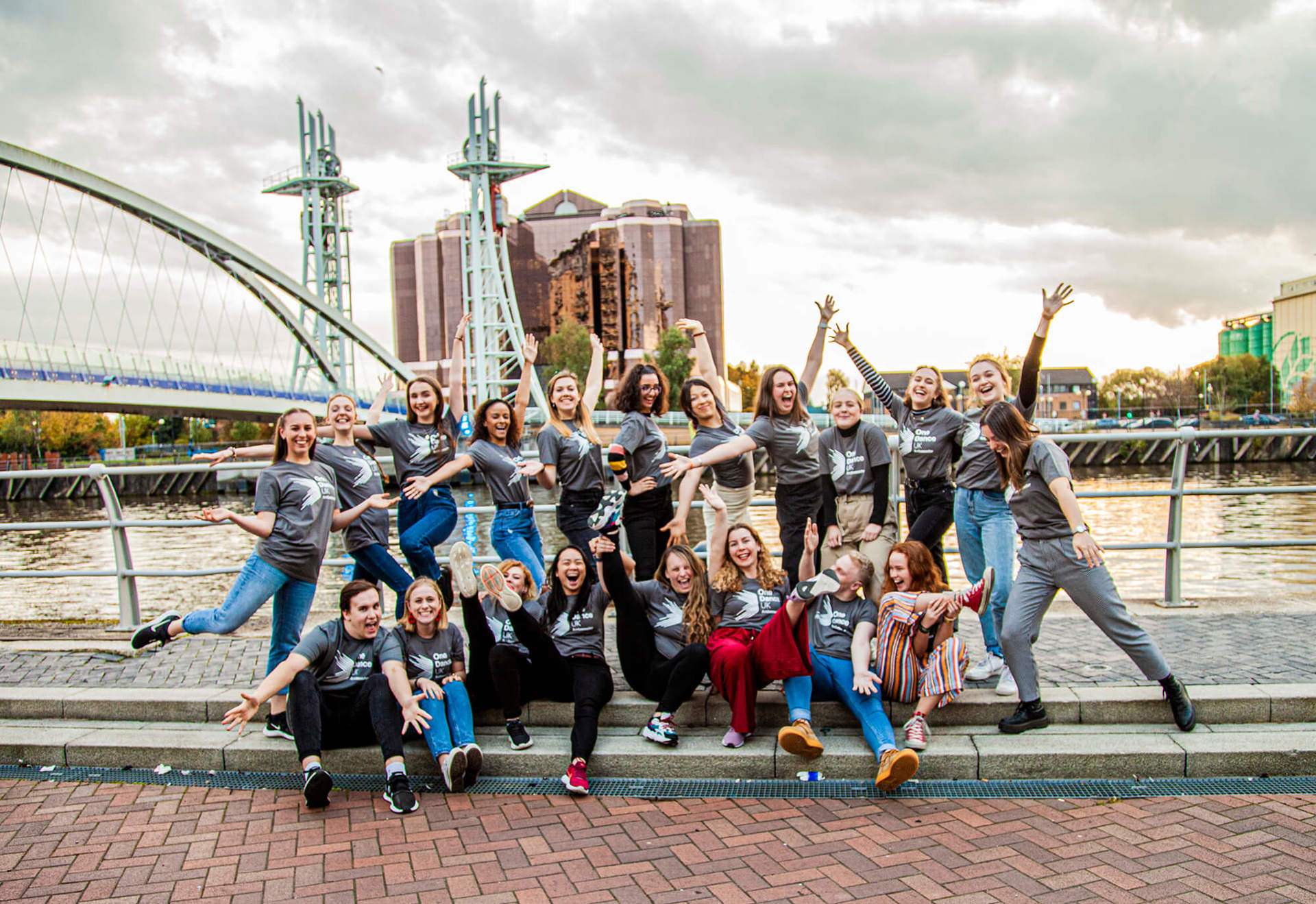 One Dance UK's Dance Ambassadors Blog June 2020:
Navigating the Dance Industry
by Jodie Nunn
————————————————————————————————————————————
A career in dance can be an exhilarating adventure. However, navigating the dance industry may often leave you feeling bewildered, questioning a lack of signposting and misplacement of a vital map. During the One Dance UK Dance Ambassador's and Dance Consortium Future Leaders Induction in October 2019, Ambassador's engaged in discussions surrounding the distinct lack of industry-specific advice offered to aspiring dance practitioners. My fellow ambassadors and I discussed, in great detail, the uncertainty and blindness with which we attempted to navigate such unfamiliar terrain; I find some comfort in the knowledge that I am not alone in my travels. As dance practitioners, we constantly find ourselves in uncertain times, between jobs, projects, and auditions, and now evermore so with the recent outbreak of Covid-19; unfortunately, there really is no map. It is often hard to turn to friends and family for advice when the industry operates so differently from many others. With this in mind, I decided to contact some of my fellow dance ambassadors, students, teachers and artists to ask for their advice, hoping to help and inspire any aspiring or active dance practitioners attempting to navigate the industry.
Networking 
Arguably one of the most daunting prospects, networking is a fantastic route into collaboration, creating future opportunities and forging valuable connections. Lucy and Beth offer some tips and tricks to help with networking: 
"As daunting as it can be at first, networking is so important. Put yourself in positions where you'll have the chance to meet new people in the industry and stay in contact with these people!"
- Lucy Dyson, Freelance Dance Teacher and Choreographer
"Networking can allow people to get to know you as a person and in your role as much as it allows you to get to know them. It can be nerve-wracking for some people to go to conferences and networking events or even just emailing someone you would like to shadow or talk to. However, the dance industry is a warm, welcoming community of people who want to hear from you. Have confidence in yourself and get in contact with people in the industry." 
- Beth Ackroyd, MSc Dance Science Student at Trinity Laban Conservatoire of Music and Dance, Freelance Dance Teacher and Community Dance Artist
Be yourself 
Amongst a sea of energetic and eager dancers, it is often incredibly overwhelming to enter the pool of auditionees, particularly if you're not a seasoned professional. Whilst auditions and interviews can be nerve-wracking experiences, it is vital to remember that although there may be thirty other dancers in the room, there is only one you. Georgia and Rebecca provide excellent advice on how to stay true to yourself: 
"My advice to aspiring dance practitioners would be to stay 'You'. I've learnt that the best way to combat the unknown is to stay true to yourself; dance is an art form, not a discipline. I feel strongly that the world needs more 'You', so be yourself; express your interests, express your honesty and share your art; inspiration will always follow."
- Georgia Poole, Creative Community Dance Practitioner
"My advice for auditions to dance schools or universities would be not to doubt your own abilities but also don't just blindly pick a school because of how prestigious or "good," OTHER people think it is. I don't mean that these schools are bad, but that they may not be right for you specifically. Go and visit any schools you are interested in and see how you feel there, what the people are like and if you could actually imagine yourself there." 
- Rebecca Runchman, Undergraduate BA (Hons) Contemporary Dance Student at Trinity Laban Conservatoire of Music and Dance 
Remember your "why" 
In addition to remaining true to yourself, it is also essential to remember your "why", particularly in a vocation such as dance. Your "why" will provide a guiding light as you embark on your dance journey. Nicola reflects on the need to remind herself of her "why": 
"My advice to an aspiring practitioner would be always to remember your 'why'. Navigating the bridge between student and professional is undoubtedly daunting, so it is important to return to your reason for following your chosen path. I personally find I need to remind myself that it is okay if my ambitions have changed from when I first embarked on my dance career – I'm still working on that one!" 
- Nicola Scholefield, Undergraduate BA Modern Ballet
student at the Royal Conservatoire of Scotland
Engage with the industry 
This may sound obvious, but it is important to immerse yourself in the industry. Discover what opportunities are at your disposal and take full advantage of them. Isabelle, Laura and Belinda offer insights into their personal experiences, recommending some fantastic opportunities to further engage with the industry: 
"I would encourage aspiring dance practitioners to take advantage of as many opportunities and experiences as they can! Success in this industry often comes down to being in the right place at the right time and who you know in your professional network. So if you think a workshop/audition/class/course might be relevant to you in the slightest and you are able to – just go!" 
- Isabelle Clough, Professional Ballet Dancer 
"I would recommend participating in as many workshops as you can! No matter the style, working in such close proximity with industry professionals gives you such an incredible taster of what the industry is like and how it functions. Stand-out workshops for me personally have been; Jasmin Vardimon, Grace Moaet, Alexzandra Sarmiento and Gecko Dance Theatre."
- Laura Brown, Undergraduate BA (Hons) Dance
Student at Guildford School of Acting 
"Be a sponge! Go to a variety of different classes and learn from as many practitioners as possible, go and see performances and get involved with any aspect of the industry you enjoy. After graduating from the Royal Academy of Dance, I knew I wanted to pursue a contemporary performance career alongside dance teaching, so I successfully auditioned for the post-graduate dance company of Trinity Laban, Transitions. I would highly recommend the post-graduate company route to anyone who has had an alternative route into performing and is curious about the art of performance itself."
- Belinda Roy, Contemporary Performer and Dance Teacher, currently dancing with Transitions Dance Company  
One Dance UK offers plenty of opportunities to connect with like-minded, aspiring and active dance practitioners through U.Dance, which due to the ongoing Covid-19 situation, has moved online, allowing even more opportunities to take part! U.Dance Digital 2020 is an online celebration of dance for young people aged 11-19 or up to 25 for those with a disability. U.Dance Digital 2020 will offer a diverse mix of practical dance masterclasses, career talks, watch parties and information sessions, allowing participants a fully immersive dance experience. Best of all, it can all be enjoyed free of charge and from the comfort of your own home.  
"I have always been an advocate of increasing dance opportunities for young people. U.Dance Digital 2020 is a chance for aspiring dancers from across the country to take part in a national event, learn from the best, and get inspired about the amazing careers in dance that await them." 
- Carlos Acosta, Director of Birmingham Royal Ballet and
Patron of  Children and Young People's Dance at One Dance UK 
 If you are interested in discovering more about what U.Dance Digital 2020 has to offer, visit https://www.onedanceuk.org/programme/u-dance/ 
Do your research 
In addition to increasing your engagement with the industry, another important piece of advice is to do your research. I was completely unaware of the breadth of the industry until I began to research the vast array of careers available to a dancer or someone interested in dance. Researching your options is one of the best ways to map out a plan and move forward accordingly. Both Richard and Poppy have also used research to inform their careers. 
"My advice for aspiring dance practitioners is to continue to hone your skills; explore all the possibilities open to you within the art form; and research, whether this is: to investigate the styles of different dance companies; to find out about the ethos of dance institutions; to be on the cusp of emerging pedagogic practices; to improve audition practices (although this develops with attending auditions); to reveal new forms of artistic expression, etc: be and keep curious and always wanting to be in the know." 
- Richard Lessey, MFA Choreography Student at the University of Roehampton. Previously Head of the Dance Department at a university college in Oslo. Former ensemble and Dance Captain, The Book of Mormon, Oslo 2017-2019 
"Do your research! The more you know about the industry, the more you will become aware of all the wonderful opportunities out there to be a part of.  Before I started my undergraduate training at the Royal Academy of Dance, I had no idea of just how big the world of dance was. Researching current projects to be involved with and meeting new teachers, choreographers, directors etc., may lead to opportunities you didn't realise were open to you." 
- Poppy Barnes, Freelance Dance Teacher and Community Dance Artist 
Be open-minded 
Finally, I would encourage aspiring dance practitioners to remain open-minded. I entered my formal training with one fixed goal. I was quickly made aware of the breadth of the dance industry. By taking advantage of as many opportunities as possible, and fully immersing myself in all Higher Education processes, I soon realised that I had neglected other avenues. Having completed my formal training, I graduated with a new goal, to take advantage of every opportunity thrust my way, to venture down paths I had never thought to travel, and to remain inquisitive and open-minded.  
Whilst these suggestions should spark some inspiration, the true beauty of the dance industry lies in its growing acceptance of individuality. There is no fixed route into the industry and no right way to navigate your career. Explore all avenues and opportunities at your disposal, connect with like-minded practitioners, do your research, be authentically you, and most importantly, remember why you love to dance. This passion will fuel your journey for as long as you wish to be part of this unique and wonderful industry.  
Thank you to all the contributors for their willingness to offer such insightful advice and commentary. 
About the Author: 
Jodie Nunn is a Freelance Dance Artist and Teacher, One Dance UK Dance Ambassador, and Dance Consortium Future Leader. Having graduated from the Royal Academy of Dance in 2019 with a First-class honour's degree in Ballet Education and Licentiate of the Royal Academy of Dance with Distinction, Jodie now teaches RAD-graded and vocational ballet and contemporary, amongst other styles, at a dance school in Suffolk/Cambridgeshire, UK. Alongside her role as a teacher and dance ambassador, Jodie is currently undergoing postgraduate study at the University of Roehampton, studying MA in Dance Politics and Sociology.