NEWS
Dance Ambassadors Blog: June 2020
One Year On: Reflections of a previous One Dance UK Dance Ambassador By Beth Ackroyd
Share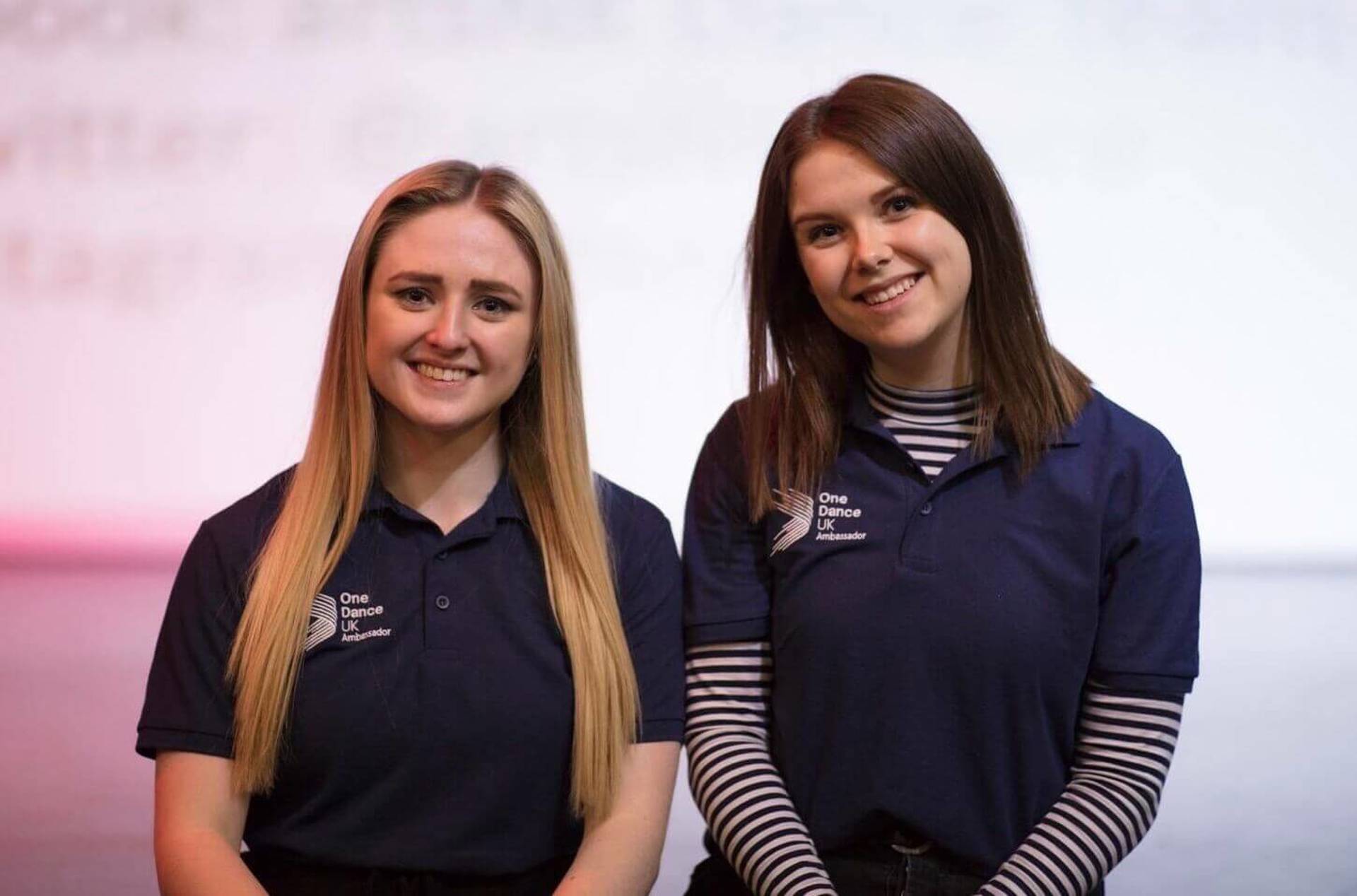 One Dance UK's Dance Ambassadors Blog June 2020:
One Year On: Reflections of a previous One Dance UK Dance Ambassador
By Beth Ackroyd
————————————————————————————————————————————
My name is Beth Ackroyd, and I was fortunate enough to be selected as One Dance UK Dance Ambassador and Dance Consortium Future leader for two years (2017-2019). During my time as an Ambassador, I was in my second and third year studying BA (Hons) Dance Studies at the University of Roehampton. My motivation to write this blog post is to express how much being an Ambassador shaped me as a person and in my career and to reflect on just how many phenomenal opportunities I, and many of my cohorts, were privileged to partake in.
Opportunities
Along with a team of Staff and Ambassadors, I volunteered and attended the 2017 and 2018 One Dance UK Conferences and Annual General Meetings (AGM). Both the conferences and AGMs allowed me to connect and begin to build a network of people within the industry. Assisting and observing a variety of talks and sessions provided me with the opportunities to increase my knowledge of multiple fields and gain a unique insight into the planning and delivery of large-scale events. My fellow Ambassadors and I were regularly asked to write articles about what we learnt or our experiences.
I was invited to interview dance specialist Rheumatologist and dance specialist Physiotherapist Caroline Jubb from the previous NIDMS Dance Injury Clinic at the Royal National Orthopaedic Hospital for the 2017 NIDMS Big Give Christmas Challenge. Further to this, myself and Hannah Alderdice (Former Projects Assistant) hosted a live stream to discuss the clinics and my experiences. This experience stands out to me as a milestone in my individual development. The response to the live stream was extremely positive, and my confidence after delivering the talk grew from this moment remarkably.
A highlight in the year for a large scale of young people, and myself, is U.Dance. Throughout 2018 and 2019, I was privileged to attend 6 U.Dance platforms across the UK, including; True Motion (LPAC, Lincoln), Pulse (Dance City, Newcastle), UDanceEast (DanceEast, Ipswich), Lift off Dance Festival (South East Dance, Bracknell) and Mass Movement (The Curve, Leicester). Whilst being a panel member for multiple events, I was asked to give a range of talks to the dancers about myself and being a Dance Ambassador and also acted as a workshop assistant, stagehand and runner. It is always fantastic to see how much the young people enjoy their days at U.Dance, so much so that I volunteered for the U.Dance London platform at Trinity Laban in 2020. Being offered the experience of aiding event organisers in multiple roles provided me with a wealth of skills in project management and running dance performances.
I was a volunteer for the 2018 and 2019 U Dance National Festivals, held at DanceEast and the Southbank Centre, respectively. Alongside volunteering across both weekends, I was honoured to contribute to the festivals in additional capacitates. At U.Dance 2018, I was asked to organise career talks with fellow Dance Ambassador Beth Veitch and presented the show. In 2019 I was trusted to lead the warm-ups for all of the dancers and was honoured to host, present and facilitate a panel discussion for U.Dance on Screen at the BFI, which included a screening of the new jazz dance documentary Transmission: Roots to Branches. The U.Dance National Festival is a prestigious event for both participants and staff. The atmosphere at the festival is always electric and full of joy for dance. The values of diversity, inclusivity and creativity at the U.Dance National Festival always leave me inspired and enthused.
As part of my role as a Dance Consortium Future Leader, my cohort and I were invited to The Alhambra Theatre (Bradford), Theatre Royal and Royal Concert Hall (Nottingham), and Festival Theatre (Edinburgh) to attend experience days about the theatres and touring companies. This included a wealth of activities and conversations, including classes, tours, career consultations and, of course, watching the performances. The companies we were privileged to work with were Ballet British Colombia, Les Ballets Trockadero De Monte Carol and Mark Morris Dance Group – Pepperland.
Fellow Ambassador Theia Maldoom and I were invited to spend a day shadowing Dance Consortium's Publicist Simon Harper for the press day and opening night of Ballet British Colombia at Sadlers Wells in 2018. Dance Consortium champions the delivery and accessibility of international touring companies in 19 UK theatres, and it was inspiring to learn from so many industry experts. My perception of what is involved in working in global dance companies and theatres has been broadened as a result.
Ella Stanton-Warren and I were tasked to create the 2018 Dance Ambassador promotional video. This was a great chance to really think about what a year as a Dance Ambassador entailed and what were crucial elements that we felt should be captured. Community, friendship, networking, advocacy and happiness were definitely at the heart of what we wanted to portray to future Dance Ambassadors.
Reflections
My experience as an Ambassador significantly shaped my career and my chosen path in the dance world. Before becoming an ambassador, I was incredibly shy and lacked self-confidence. I would never have imagined that I would be able to achieve what I achieved as an Ambassador and beyond. The opportunities brought me out of my shell and inspired me to achieve my best. I graduated from the University of Roehampton with a Frist Class Honours BA (Hons) degree in Dance Studies and received the Andy Hardy Prize for Excellence in 2019. I was also selected as a 2019 Young Rural Retreat Delegate in association with Dance East and Scottish Ballet. Presently I am studying MSc Dance Science Student at Trinity Laban Conservatoire of Music and Dance. I am a freelance community dance artist and dance teacher for a wide variety of teaching contexts, including private ballet schools and professional community dance organisations. I am also a member of the Pre-Amici Dance Group (Amici Dance Theatre Company).
In light of the current crisis of COVID-19, I, along with a large proportion of the population, find myself in a state of unknown in amongst the new challenges, particularly within the dance sector. Never before have the skills I developed been more necessary than now. Being an Ambassador unveiled growth in my confidence, self-belief, undeniable determination and a burning desire to learn and practice more. Most of all, along with other significant circumstances, being an Ambassador brought out a resilience in me that I didn't know existed.
My two years as a One Dance UK Dance Ambassador and Dance Consortium Future Leader were influential in my development as not only someone about to begin work in the dance industry but also as a person. I made friendships and memories I treasure. I cannot express my thanks and gratitude enough to the teams at One Dance UK and Dance Consortium for all their support and guidance provided during my time as an ambassador and after.