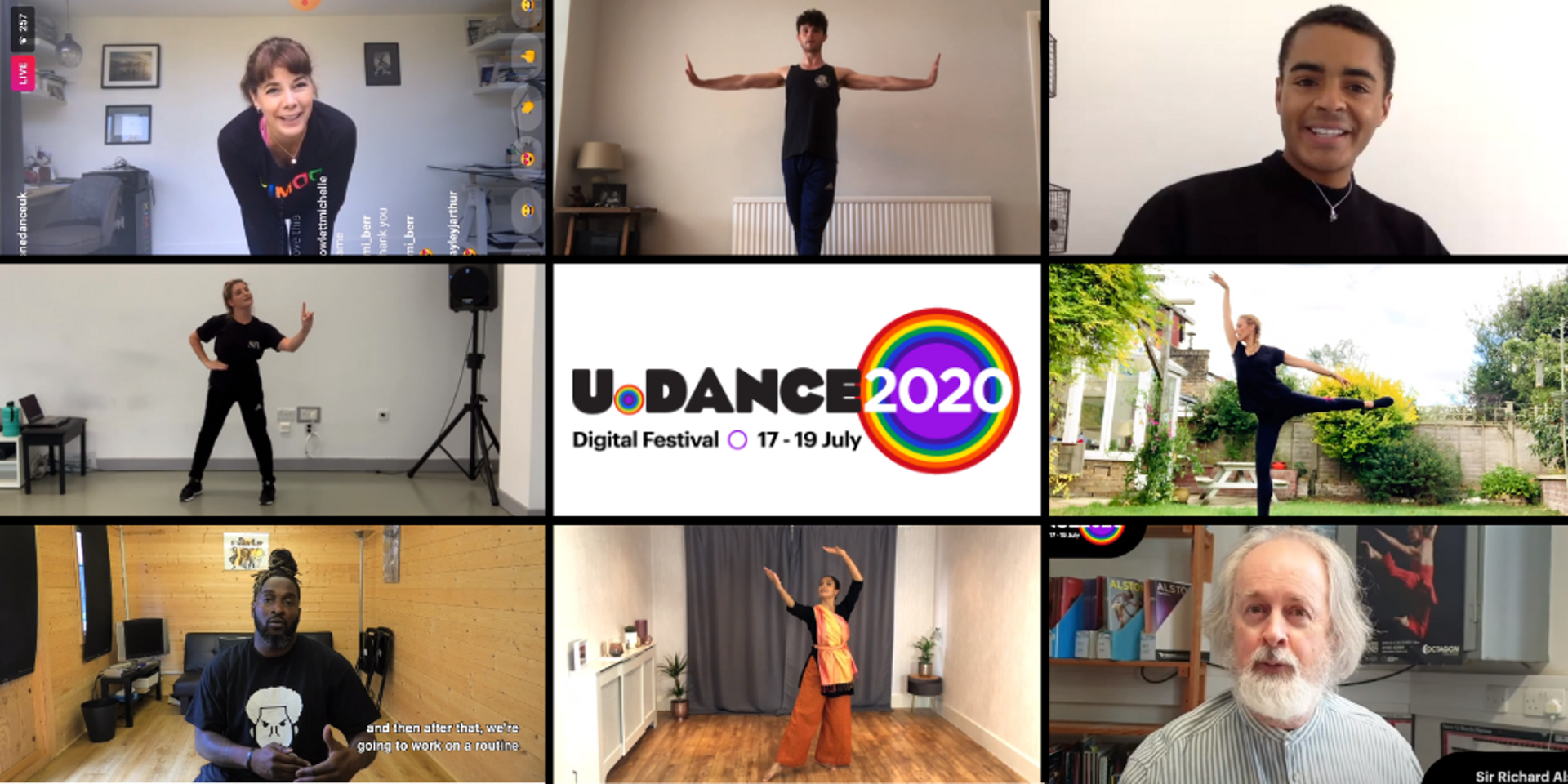 One Dance UK's Dance Ambassadors Blog August 2020:
U.Dance Digital 
by Lottie H & Lucy H
This year the U.Dance National Festival, our annual celebration of youth dance, went online and became U.Dance Digital. U.Dance Digital 2020 saw the introduction of the U.Dance Writing Challenge, a chance for budding dance writers to showcase their talents. One Dance UK team and Guest Panellist Graham Watts OBE, Chair of the Critics' Circle Dance Section, selected two talented winners of the challenge. . We tasked them with summing up their U.Dance Digital experiences for a special feature on the Dance Ambassador's Blog. Read their reviews below!
————————————————————————————————————————————
Becoming a chameleon
by Lottie H
Three days dancing from my living room. U.Dance Digital 2020 turned the tables, taking the digital stage to thousands nationally – one being me.  
My sofa was Strictly Come Dancing's judges' panel, and the mantelpiece was a barre onstage at a Royal Opera House rehearsal. Although there was no live audience, I danced like no one was watching, even if my cat seemed critical.  
Virtual adventures began alongside prima ballerina Darcey Bussell, and another day was spent preparing for anything with a RAMP fitness warm-up with dance fitness coach Khyle Eccles. The Royal Ballet's Zenaida Yanowsky gave tender quality to her teaching of Swan Lake's Dying Swan solo with imagery, and phrases were built on layering gestures in the Kathak masterclass with Vidya Patel.   
Kenrick 'H20' Sandy from Boy Blue tested groove with coordination, maintaining downbeats, and adding footwork and arm patterns. Pizzazz was perfected in the Latin masterclass with Strictly's Aljaž and Janette. I can still hear Aljaž saying, "One leg bent, one straight!" I'm still practising whilst brushing my teeth.  
Listening to some of the industry chats made it clear: there is no set route into dance.
Steven McRae, a principal dancer with The Royal Ballet, came from a motorsport family but, like an 'unleashed lion', went into ballet. His in-class tip: visualising a dog cone on his head during barre creates tunnel vision to work on himself. Well, if a principal dancer does it…this may catch on.  
Contemporary dancers Faye Tan (NDCWales) and Liam Francis (Rambert) discussed 'preparing for luck' and having a ready approach when change brings opportunity. Arriving at the wrong audition or small talking with a stranger could be a career turning point.  
Being a chameleon has its perks. The U.Dance Digital festival was the perfect habitat for enjoying new classes, adding nuance to your favourite style, and learning what drives dance lovers everywhere.  
All this inspiration – from my living room.  
Lottie H., 16, is a dance student at the Brit School who loves contemporary dance styles, reading and choreography.
Discovering dance online
by Lucy H
Prior to my experience with U. Dance Digital, I explored each class available on the official website and was overwhelmed by the variation of pathways I could take, which therefore made it hard for me to pick which ones I should take part in. 
Firstly, the 'Dance Across Many Genres' careers chat with Akosua Boakye BEM showed how young people should prepare themselves for the industry by suggesting that to make themselves versatile, a dancer should expose themselves to various styles and develop their voices, creating new opportunities and pathways.  
Following this, I attended the Choreographer Careers Chat with Richard Chappell, during which we were informed that it is vital for a choreographer to have an awareness of their bodies, plus eloquence in how they present creative ideas. Moreover, he provided us with advice about this sector of the industry – allow the unexpected! 
Furthermore, I took part in Paul Smethurst's 'New Adventures' masterclass, learning a unique phrase from the acclaimed Romeo and Juliet. During this, I was able to expand my creative skills by creating a new and individual phrase, expressing a story within my movement. 
Then, during the 'Costume Supervisor' careers chat with Lydia McDonald, I was able to widen my understanding of costumes within the arts. Moreover, she illustrated that it is important for her to understand what the designer envisions in order to produce suitable costumes. 
Finally, I took part in the West End's Six the Musical masterclass, where I was taught an upbeat phrase by its choreographer, Carrie-Anne Ingrouille. By taking part in this class, I was able to fully experience new styles, plus broaden my understanding of the West End! 
Overall, my experience with U Dance Digital was an incredible opportunity worth grasping, enabling me to embrace and learn about various aspects of dance!
Lucy H., a student at Landau Forte College, Derby, is currently GCSE Performing Arts/Dance, with interests in various styles of dance, such as contemporary and lyrical.