NEWS
Dance Ambassadors Blog: April 2020
Personal reflections on nutrition, hydration and taking care of yourself by Poppy Barnes.
Share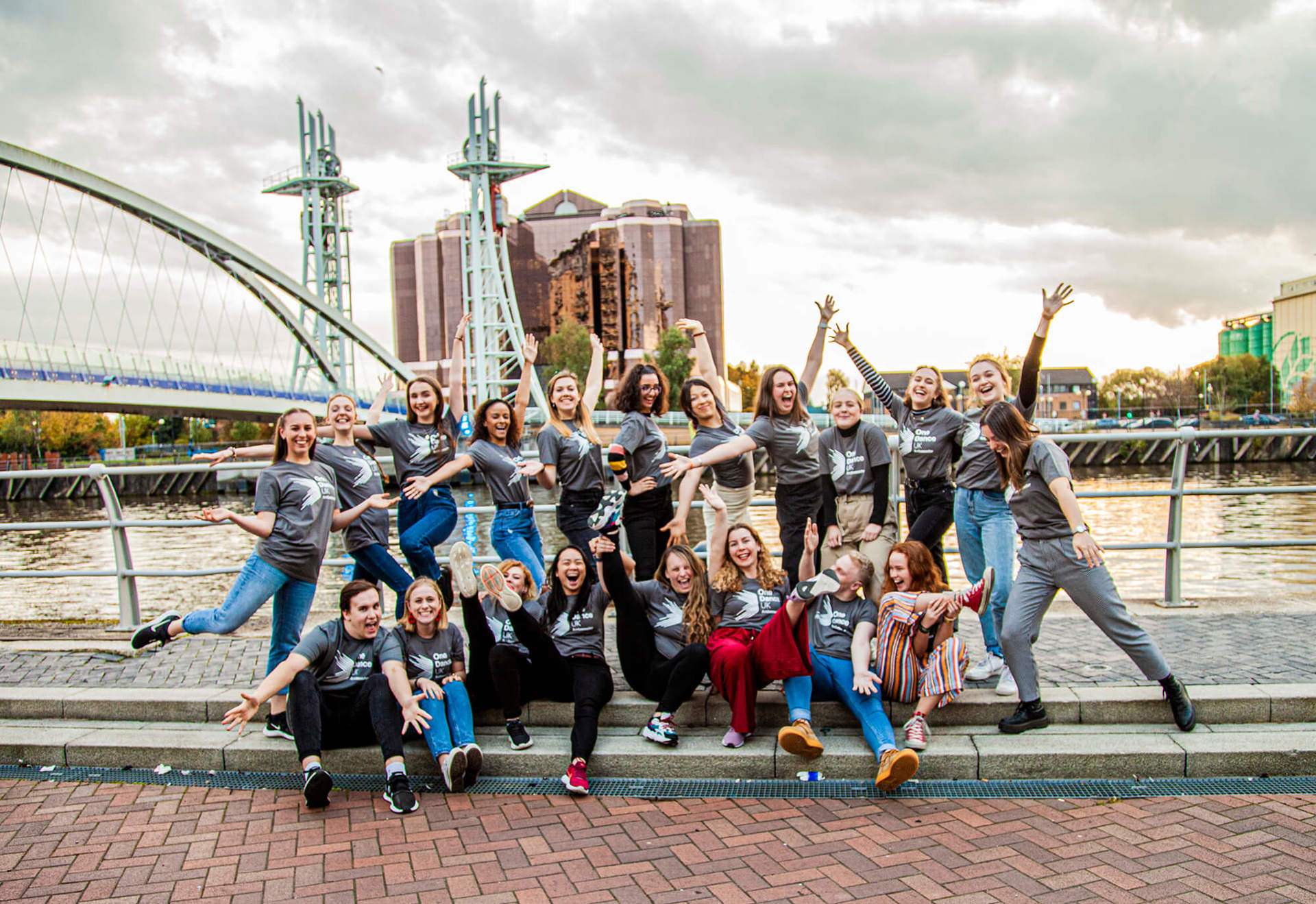 One Dance UK's Dance Ambassadors Blog April 2020:
Personal reflections on nutrition, hydration and taking care of yourself
by Poppy Barnes
————————————————————————————————————————————
Staying Grounded: Working as a freelance dance artist and taking care of yourself during self-isolation
Just as many sectors worldwide have been affected by the current crisis of Covid-19, the dance industry is facing many challenges. With performances, rehearsals and daily classes cancelled, this has had a profound impact on those working as freelance dance artists and teachers. Many of us will want to continue with work and keep on top of our daily practice amidst the uncertainty. Although all of us will have to embrace change, as a small ray of light, this may be the perfect opportunity to experiment to find a balance between the requirements of work and nourishing ourselves, both mentally and physically.
Since becoming a freelance dance artist and teacher, I have found the need to research and work out what works best for me in order to stay grounded. Below I share advice, tips and tricks I have gathered over the past year that are helping me to live a happy, healthy life and career. By adapting them to your circumstances, I hope they will help you to consider how you are taking time to nurture yourself during this uncertain period.
1. Get Outside:
Make the most of your time allowed outdoors! A connection to nature may support overall wellbeing (Rabinowitz et al., 2018; and Richardson, 2019). Working in dance often means being inside a studio or rehearsal space for long periods of time. On those bright, sunny days, we can really notice our desire to be outside enjoying the sun! However, now that we have a dedicated period of time to be outdoors, and with the arrival of spring, I make the most of fresh air and a renewed sense of connection to the world around me. This could be taking exercise into a green space, looking up at the sky and noticing spring flowers whilst on a walk, or simply sitting next to an open window.
2. Move for You:
When was the last time you moved simply for your own enjoyment? As dancers and teachers, we are often moving in response to other people's instructions or to deliver our own choreographic phrases to a class full of expectant students. Rarely do we find a free studio where we can simply move out of pure joy. Now that many of us have a period of lower-intensity training or work, supplementing our practice with activity outside of the dance studio can do wonders for both mental and physical health (Hopper and Blevins, 2016). An early morning run or Yoga practice gets me up and ready for the day ahead. There are also many companies and organisations offering free live dance classes, so this may be the perfect opportunity to try out a new style from the comfort of your own home! Check One Dance UK's calendar regularly to keep up-to-date with live offerings from around the UK: https://www.onedanceuk.org/digital-dance-events-calendar/?month=apr&yr=2020.
3. Develop a Sleep Routine:
"Rest and recovery are crucial for your health, and may be the most overlooked area of wellness. Consider your sleep habits, and also look at ways to cope with stress and anxiety," suggest Wilmerding and Krasnow (2016), authors of Dancer Wellness. It is, therefore, important to consider your sleep habits, particularly in this period of uncertainty that may be a cause for stress. Also in line with the tip above, 'Move for You,' a ten-minute stretch or meditation before bed helps me to wind down my thoughts from the day and is an essential part of my bedtime routine. I've also found that keeping my routine the same every night, including going to bed and waking at a similar time each day, helps to prepare my body for sleep.
4. Plan Your Meals:
Even though we may not be following the usual routine of rushing from one class to the next and eating on the go, it is important to keep on top of nutrition during this time. Nutritionist Zerlina Mastin states, "Insufficient time between classes, stress, disrupted sleep, an unhappy digestive system, a high sugar diet, and too much caffeine can have a huge impact on stamina, concentration and mood (in fact, mood affects what we eat, and what we eat affects our mood!). A nourishing diet containing plenty of colourful fruits and vegetables, lean protein, whole grains, and healthy fats can give dancers that much-needed edge to maximise their skill and talent" (Mastin, 2018). I am finding this to be a great time to get creative in the kitchen and discover which foods work well for me. I plan my meals in advance and make double portions when I find the time to cook and freeze the leftovers to keep for days when I am feeling less than my best and in need of nourishment. This also helps me to avoid food waste. Check out Mastin's recipes on the NIDMS blog for ideas: https://www.nidms.co.uk/blog.
5. Find Time For Yourself:
There may be pressure around this time to be productive and achieve all those things you never had time to do before self-isolation. However, during this period of uncertainty, I have found that finding time for rest is just as crucial as ever. For me, finding a proactive activity that I enjoy cultivates positive mental health as well as relaxing the physical body, both of which will benefit my work in dance. Reading and journaling whilst listening to podcasts are two of my favourite ways to actively rest and recuperate, taking my mind away from worries and the to-do list.
About the Author:
Poppy is an artist, dancer and registered teacher of The Royal Academy of Dance (RAD). Originally from Northumberland, England, she started her classical ballet training at the age of 7, studying all RAD syllabi up to Advanced 2 level. In 2019, Poppy achieved a First Class Honours degree in Ballet Education with the RAD as well as achieving the Licentiate of the RAD qualification with distinction. This training has given her the opportunity to teach in a wide variety of teaching contexts, including with multiple private ballet schools and professional community platforms such as the Institute of Imagination and Dancing with Parkinson's.
Alongside ballet, Poppy has also studied contemporary dance and has a particular passion for creating work centred around improvisational techniques. She has enjoyed opportunities to be involved in outreach programmes, studio residencies and perform with various professional companies, including Semaphore Ballet Company. Poppy is an active member of the inclusive dance company Amici Dance Theatre as a performer and teacher and a current Dance Ambassador and Future Leader for One Dance UK and Dance Consortium. Poppy's undergraduate dissertation on site-specific dance and sense of place is published on Global Site Performance: https://www.globalsiteperformance.org/about/writings/dancing-and-site-dissertation/
Reference List:
Hopper, L., & Blevins, P. (2016) "Maybe you should stop dancing… a little" IADMS. www.iadms.org/blogpost/1177934/249918/Maybe-you-should-stop-dancing-a-little.
Mastin, Z. (2018) "Recipes with Zerlina Mastin" NIDMS. www.nidms.co.uk/single-post/2018/04/06/Recipes-with-Zerlina-Mastin.
Rabinowitz, P., Pappaioanou M., Bardosh K., & Conti L. "A Planetary Vision for One Health." BMJ Global Health. gh.bmj.com/content/3/5/e001137.
Richardson, M. (2019) "5 Ways to Wellbeing with Nature" Finding Nature. findingnature.org.uk/2019/01/28/5-ways-to-wellbeing-with-nature/.
Wilmerding, G., & Krasnow D. (2017) "Developing a Personal Dancer Wellness Plan" IADMS. www.iadms.org/blogpost/1177934/267175/Developing-a-Personal-Dancer-Wellness-Plan.