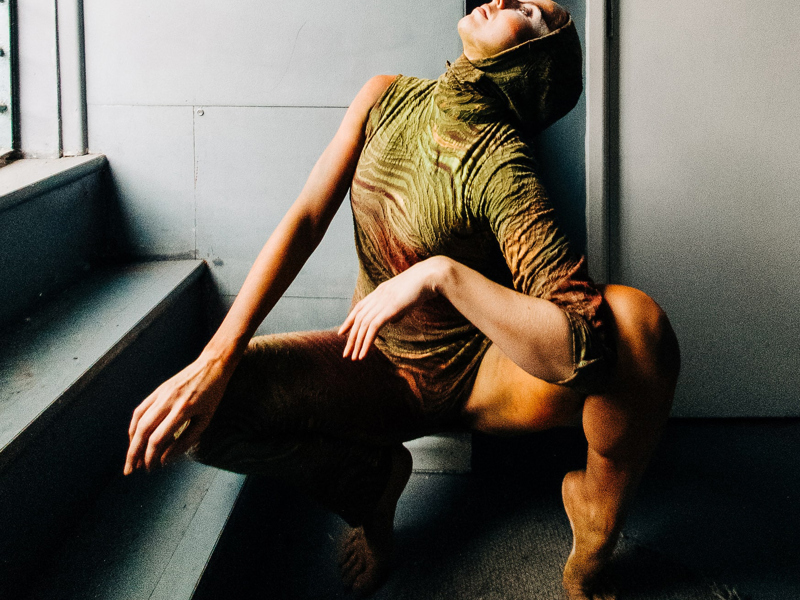 Name: Helen Calcutt
Company:
Dance Level: Experienced
Bio
Helen is a professional dance artist, choreographer, and poet, known for her dynamism and versatility. She is driven to explore the body as a power-house of emotional storytelling, creating highly physical and thought-provoking choreographic work. She shares her distinct approach to movement and dance across the U.K. and internationally, creating dance performances and experiences for theatre, open-air spaces, and film.
Originally a student of modern dance and jazz (U.K.A, CHB Performing Arts) Helen went on to train in the Cuban techniques of Salsa, Rumba, and Son, before establishing her professional Contemporary practice in 2014. She is trained in Graham Technique with Marcia Edwards Dance Company, and is a fully qualified Creative Practitioner (Creative Alliance, 2012). Choreographically, Helen draws on a wide range of movement experiences, such as Cuban Rumba, Hip-Hop, and Contemporary, invariably pushing the boundaries of technical interplay. Her approach to dance is deeply immersive, with a specialism in dance-theatre, and the cross-over between language and movement. She is inspired to work with live music and voice, as well as poetry and text.
To date, Helen has worked with the likes of Apple, Made in LDN, the Birmingham Royal Ballet, ME Dance Company, Def Motion, Vamos Cubana, Canela Fina, Midland's Actors Theatre, Poetry International, BIDF the BBC, and The Southbank Centre. Her work has been supported by Arts Council England. She was nominated for a Women in Dance Award with AWA Dance (Advancing Women's Aspirations with Dance) March 2021.
Dance Style:  Commercial, Contact Improvisation, Contemporary, Film, Hip Hop, Jazz, Large cast movement and staging specialist, Movement Direction, Salsa
Work Context: commercials,community,dance theatre,devised theatre,digital internet,film,installations,live art and performance art,live music,music video,physical theatre,pure dance,television
Personal Contact
Telephone: 07746505010
Credits
2021
'Descent' with Midland's Actor's Theatre. Movement Director and Choreographer for a site-specific production exploring the psychological effects of war and terror, and a mythical 'descent' into healing and redemption.
---
2020
'Descent' trailer, for Midland's Actor's Theatre. Featuring Shelley Eva Haden.
---
2020
Hounslow Action for Youth, Made in LDN (2020). As a dancer/performer/choreographer. A digital, collaborative project on which I responded to, choreographed, and performed three solo dance works in response to poetry written by young female members of the HAY outreach programme. The performances were directed and broadcast by Apple on social media platforms.
---
2020
'Time'. Private choreographic commission, responding to voice through movement. Voice work by Cillian Murphy.
---
2020
Curated by Carlos (postponed due to the pandemic.) Birmingham Royal Ballet (2021 /postponed): A live performance of dance and poetry, seeing professional dancers spontaneously respond to verbalised and written audience stimuli. Performance creator and performer.
---
2019
'Naked' - movement and dance re-working of a poem by the same title, produced by Red Storm Productions.
---
2018
'I'D DO IT ALL AGAIN' – Midland's Actors Theatre (2018) - Movement direction on an original, community theatre production as part of a creative outreach performance toured in dementia care homes and day centres across the UK. Funded by ACE
---
2018
THE DARLSTON DOG FIGT' – Regional Voice Theatre (2017-18) – Movement Direction, fight choreography and dance choreography for an original three-cast theatre production performed at The Arena Theatre. Funded by ACE.
---
2017
'STAY' - Birmingham Weekender Festival 2017 – a contemporary dance piece blending movement with sign language. Performed by dance group 'Beyond Words'.
---